2
Happy 102nd birthday, Lillian!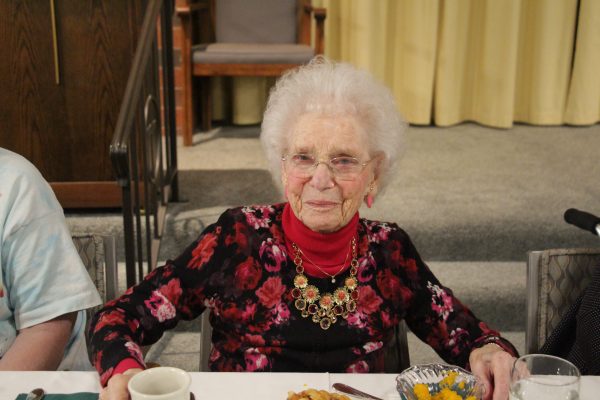 It was a great way to start the week.
On Monday morning, dozens of people gathered to celebrate everyone living at Ridgecrest Village in Davenport who has a birthday in March. With coffee and orange juice, crumb cake and donuts, each individual marked the beginning of a new year of life. Instead of cards and gifts, friends gave donations to the River Bend Foodbank.
Lillian Nelson was one of the people at the head table. She celebrated her 102nd birthday on the first day of spring.
Lillian also happens to be St. Paul's oldest member.
"I decided I wasn't going to ask ages because no one can compare to Lillian," said Marlene Miller, who works at Ridgecrest and introduced each of those celebrated.
Lillian was born on a farm near Princeton, Illinois, in 1916. She was one of six girls and one boy. Her brother sadly died in a farm accident.
Her mom and dad had an 8th-grade education, so they were determined that their girls were going to go to college. And that they did. In 1936, for example, three of the girls went to school, for $125 a semester in tuition and $125 in room and board. Lillian graduated from Knox College with a major in math and minor in history. She earned $1,000 a year for her first teaching job.
On a Luther League trip (Luther League was similar to youth group now), she first met a young man named Harry Nelson. Four years later, while taking courses at the University of Wisconsin, she met him by happenstance at a student mixer. They went for a drive around the lake in his car. And the rest, as they say, is history.
Today, Lillian is particularly fond of listening to Cubs games on her radio. She loves basketball, too, and keeps track of the teams in the NCAA tournament by keeping her ear on the televised games, with color commentary by her daughter, Lois Nelson.
She stays up until about midnight, and mother and daughter read the newspaper together each morning. St. Paul friend Kristy Fuller comes and visits and reads St. Paul's Journey magazine from cover to cover to Lillian. An avid reader, Lillian now likes to listen to books on tape. Every day, she keeps up with the news with the local and national broadcasts at 5 and 5:30 p.m., as well as 10 p.m.
It's become a bit more difficult for Lillian to come to church, so she attends the Lutheran Lunch at Ridgecrest. The gathering on the first Saturday of the month is led by Pastor Ron Huber.
On Monday morning, she smiled while friends sang happy birthday. She ate some cake, and began her 102nd year on Earth.