6
Behind the scenes with the Christmas trees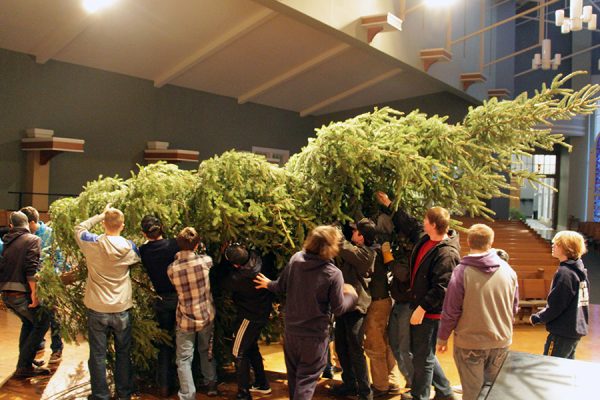 Early Tuesday morning, just as the chilly day began, several teenagers pulled into the parking lot at St. Paul. They were there to see a project they worked on do its job.
At the request of Matt Spencer, building manager, this welding class from Davenport West High School made a custom-built tree stand for one of the large Christmas trees that adorns the front of the St. Paul Sanctuary each year. It's the second time that the welding students at West have built such a thing for St. Paul.
"It's a small trunk for a 22-foot tree, and I needed a stand to accommodate that," said Matt, who leads the tree selection, placement, and decorating operation each year. From start to finish, it takes approximately five days to get it all done (though Matt admits he thinks and dreams at least half the year about the trees).
Andy Zinn is the West High School welding teacher. The welding course is an early bird and first block class, meaning it runs about 2 1/2 hours each day. Ben Stolenberg and Zach Chapman were the primary builders for the new tree stand. The students had to cut the base plate first, but a short time into the project, they soon realized there was a piping issue. They did not have a big enough pipe in their supply, so Mr. Zinn had to look to outside sources for supplies.
Ben had no worries about the project but his colleague Zach had a slightly different demeanor. "My thought was, this must be one big tree," Zach said. The project continued with a donation from Hempel Piping. Two weeks after the start date, the job was finished.
All that was left was the task of putting the trees – 22 feet and 27 feet tall – upright into the stands.
As the class walked into the Sanctuary, Matt explained how the process would work. Soon enough, the 27-foot tree was in the hands of 20 teenagers, carried down the middle aisle of the Sanctuary and placed into the first stand built by a previous welding class.
Next came the smaller tree (22 feet). Up it went into place in the new stand without a problem. By 8:30 a.m., the smell of Christmas filled the air in the Sanctuary.
Now decorated with white lights and red bulbs, the trees are ready for Choral Advent and the Christmas pageant on Sunday.