Childhood Christmases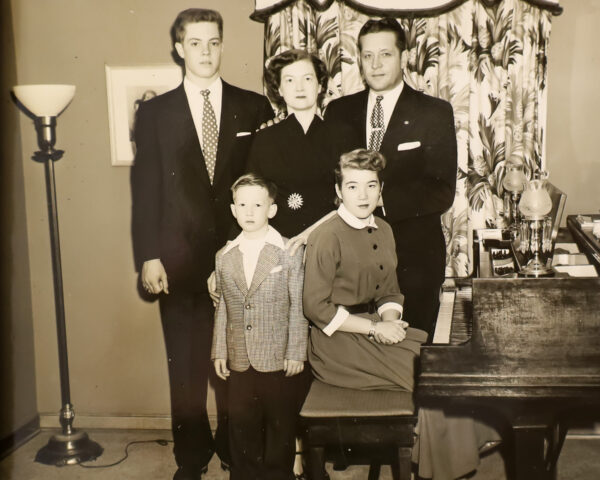 The theme of this year's Advent devotion is: Do you see what I see? An array of St. Paul voices selected a photo or photos that hold very special memories to them, then sat down and reflected on what that photo means to them. What do they see and remember that others may not when looking at this photo? Through their words and stories, hopefully, you'll see a little of what they see.
At age 74, in this busy world, looking through old photographs nudges my mind. These photos quickly bring back childhood memories.
I grew up in a loving home with wonderful parents. We decorated a Christmas tree each year, placing decorations around the house and hanging stockings from the back of a chair since we had no mantle. I remember baking cookies with mom, me standing atop a stool mixing dough and spreading flour all over the counter and floor. I ate a lot of those cookies, but most went into food boxes at church. For me, these seemed like normal traditions.
A lot of our family Christmas traditions centered around the church. When I was seven years old, I got my first white shirt and coat to wear for the Christmas Eve candlelight service. We always attended as a family; my parents, brother, sister, and me.
At that age, I didn't think much about the service but more about building snowmen, sledding, ice skating, and that one present we were allowed to open after the service. What I do remember was feeling the warmth and friendliness of people greeting each other with a 'Merry Christmas.' While we sang Christmas carols and raised the candles, my older sister and I held the candle together.
Each year those moments grew more special. As I got older, my parents (who were always active in the church) encouraged me to participate in all the church's activities; boy choir (no solos!), youth choir, and handbell choir. The boys' choir and bell choir played at other churches in and around the Des Moines area. Moments that are especially meaningful to me were playing at assisted living and nursing homes. The residents always enjoyed the programs. I loved seeing their smiles.
Looking back, I believe God always had a hand on my shoulder.
Denny Reichenbacher and his wife Anke Maass live in Davenport. He is a retired funeral director and Kiles Hallmark store owner. Denny has four adult children with 5 grandsons.