Snow globe and gratitude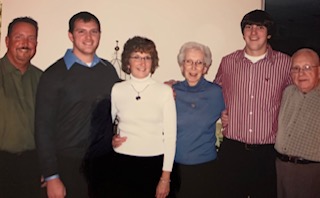 The theme of this year's Advent devotion is: Do you see what I see? An array of St. Paul voices selected a photo or photos that hold very special memories to them, then sat down and reflected on what that photo means to them. What do they see and remember that others may not when looking at this photo? Through their words and stories, hopefully, you'll see a little of what they see.
Scott, my only brother, arranged a night out for our parents, with the three adult grandkids, three significant others, and the two of us. After a brief photoshoot, (granddaughter JoDee was the photographer), we laughingly piled into a limo and were chauffeured to dinner, followed by a ride to the main door of the Civic Center in downtown Des Moines to see the Radio City Rockettes' Christmas Spectacular. My brother somehow knew that our mom had always wanted to see this show! They were spectacular and our parents loved the show. They especially loved having all 10 of us together on this very cold night in December 2007.
This photo is my "snow globe" – a memory that always makes me smile in a very gentle, loving way with a warm heart and the hint of a tear. You see, this was the last time we were all together at Christmas, as mom died the following September. I am so glad we took time for just one evening of family. I am filled with the kind of gratitude I think Brian McLaren means when he says "We are to be grateful not just in the good times, but also in the bad times; to be grateful not just in plenty, but also in need; to maintain thankfulness not just in laughter, but also through tears and sorrow."
Fast forward 15 years and our family looks very different: I am now the eldest. There are four partners/spouses and 8 great-grandchildren! As I scurry around in preparation for Christmas 2022, I try to maintain a perspective that helps me see through grateful eyes and with a grateful heart. I am confident that mom and dad are in our midst. The laughter and love present in that snow globe photo wrap around all of us still, holding us together and reminding us of the Child who brings us goodness and light. Do you see what I see?
Paula Durham is the business office manager at St. Paul. She is the mother of two adult sons and grandmother of six. She is an active member of First Presbyterian Church in Muscatine, where she makes her home. You will find her on her bike during her free time.