Confirmation faith stories, blessings begin this weekend
Faith stories, the culmination of the confirmation experience, are a 2-3 minute presentation. During this time, teenagers will speak about how they see God at work in the world and in their individual lives. Faith stories will be shared during the Sunday morning learning time (10:20-11:05 a.m.) and students will be recognized at either the 9 or 11:15 service.
The sessions will be held in Fellowship Hall. All are welcome to attend.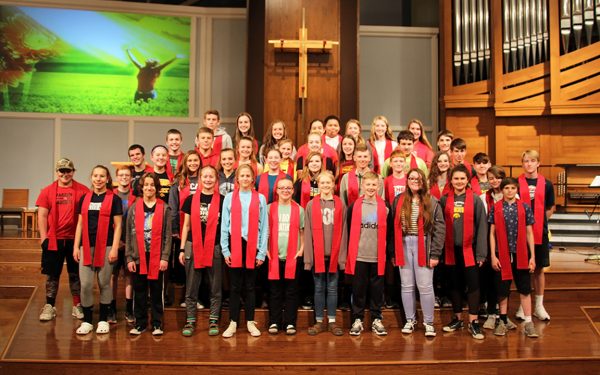 Sunday, September 15 (9 a.m. service)
Curtis Canterbury
Rylon Hall
Quentin Hurley
Chandler Moore
Harrison Stephens
Miley Ashby
Ayva Parker
Jennifer Perry
September 22 (9 a.m. service)
Gavin Barber
Maxwell Doran
Jacob Ellsworth
Garrett Ellsworth
Sam Johnson
Mason Lovig
Clayton Nesbitt
Ethan Smith
Paige Barber
Abigail Janke
Emma Vaaler
September 29 (9 a.m. service)
Greta Herbst
Shelby Juehring
Leah Mendelin
Avery Menke
Ellen Tews
Natalle Wagner
Kaydence Weeks
October 6 (11: 15 a.m. service)
Alaina Lake
Alayna Mull
Ariana Ellingsworth
Izzy Wollett
Lauren Golinghorst
Charlie Hepner
Katie Mahl
Cora O'Neill
Emma Ruth
Klara Skogman
Lexi Pelzer
October 13 (11:15 a.m. service)
Keaton Braack
Alec Harris
Mason Herrington
Henry Leslie
Drew McIntyre-Hill
Ethan McIntyre-Hill
Adrianna Blackwell
Alexandria Petersen