Creating crafts and building faith
It's just a simple brown metal shed on the outside.
Along the gravel road of Camp Shalom, the Craft Barn is tucked into the trees. A creeky door greets visitors. And so does Emily Crowe.
"Welcome to the Craft Barn!" she says as a crew of kids on their first day of camp comes in to take a seat.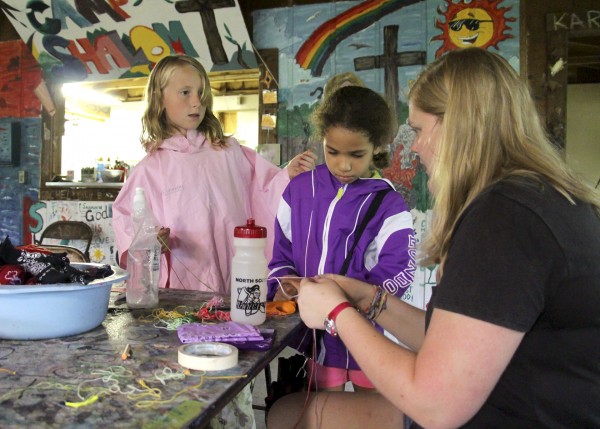 The barn is the original Dining Hall for Camp Shalom. Today it is home to Environmental Education programs (say hello to the turtles!) and crafts activities.
The mundane exterior belies the special interior – on the walls are colorful murals and the signatures of many of the youth who have attended Camp Shalom over the years, a time capsule of sorts.
On this day, Emily is leading kids in making prayer strips to loop together and hang in the Program Center, bracelets made from bandanas, and friendship bracelets. She chose these particular projects to tie in with camp's theme this year: A love that never ends.
"Some of these projects I remember doing as a kid," she said. Emily has been a camper or on staff for 12 years now. She is studying English and Nordic Studies at Luther College. "This is a second home for me, and the coolest way to spend my summer."
With markers, crayons, and paint, each camper decides what their creation will look like. "Your craft, your decisions," Emily tells them.
It's just one part of the independence fostered at camp. That independence is one reason Emily believes so strongly in the camp experience for every kid.
"They are their own person here, they create their own ideas," she said. "And they get to be a little goofy and have a little fun."
Camp Shalom was founded by St. Paul people nearly 40 years ago. For more information, visit www.campshalomia.org.