2
Faith & Life speaker 2015: Leslie Hunter
The 17th time Leslie Hunter moved was when he went to college as an 18-year-old.
He was the oldest of four, the son of teen parents who grew up around the corner from each other in Chicago. His parents were alcoholics. Step-fathers were physically and emotionally abusive.
"I took on a lot of responsibility as a kid," said Leslie, who has a hug and smile for every single person he meets. "We moved a lot. I was always the new kid. It helped me to quickly adjust to new environments, and make new friends."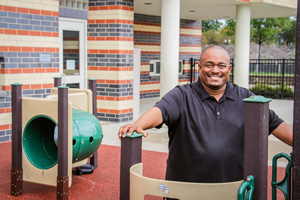 Leslie is the 2015 Faith & Life speaker at St. Paul. He will present twice on Sunday, Oct. 11, at 10:45 a.m. and 7 p.m. in the Sanctuary. Both events are free and open to the public. His self-published book will be available for sale in the Book Corner for $5. Learn more about the Faith & Life series.
No matter where Leslie lived, no matter what was happening at home, he knew how to get to Holy Family Church in the Cabrini-Green neighborhood of Chicago – whether it was taking Division to Larrabee to Hobie, or hopping on the Blue Line train.
If you're not familiar with Cabrini-Green, it was one of the most violent, poverty-stricken, gang-infested housing projects in Chicago. The last of the Cabrini-Green buildings was demolished in 2011. It's now a mixed-income neighborhood working itself out of its old reputation.
The church is where his aunt, cousins, and grandfather's sister went. It was a come-as-you-are type of place that mixed a little bit of high church with a few Amens shouted in the middle of the sermon, Leslie said – a combination that has served him well his entire life.
Leslie preached his first sermon at 15.
'Go for it, son'
His interest in preaching began at the age of 12, when wrote a poem about Martin Luther King, Jr. He stood up, shaking legs and all, at church and recited that poem.
Next year, he wrote a piece about Harold Washington, the first black mayor of Chicago.
After that, the choir director saw that young Leslie had a message to share. "So I wrote seven pages – every sermon is seven pages, right? I wrote about the unconditional love God has for us, no matter our color."
The people of Holy Family, "they said go for it, son." So Leslie preached that sermon one day.
"The whole congregation supported me, they applauded me. I was surrounded by people who said 'of course you're going to college. You can do this.'"
One of his most significant mentors was his cousin, Barbara. She oversaw a career development program for kids who attended the church. Through that program, he learned how to run a business. The kids in that program attended college fairs, too.
It is there he learned this chant that he still recounts today:
I feel good about myself.
I feel good about others.
I feel good about today.
And I know God loves me.
When Leslie graduated from high school, the church hired him at $100 a Sunday, to take the train from Concordia University Chicago in River Forest to be an assisting minister at Holy Family. He graduated from Concordia with a degree in psychology.
Leslie spent the next 20 years working there. He was parish minister and youth pastor, alongside the now-retired Pastor Charles Infelt (who is now the mayor of Waverly, Iowa). Leslie ran a program called Boys in the Hood for boys age 7-young adult.
"These were gang members for real," Leslie said. "Some of them had rank. But they would come to me and say, 'Whatcha got for me?'"
So Leslie put them to work building basketball courts, or taking them on experiences throughout the city. Once, he took them flying.
'Everything I love'
Leslie now is the chaplain and religious studies instructor at Holy Family Ministries, a school that is about 15 minutes away from the church. He spends his days leading chapel and teaching kids about the Bible, Christianity, and other world religions. He also is spending time speaking, like he will at St. Paul.
When Leslie walks down the hallway at Holy Family, kids stop to hug him. He breaks into song effortlessly, too. When one girl named Heaven walked by, he started to sing a song about Heaven. The girl smiled big at him. When he's leading a class of third-graders in their first lesson about the books of the Bible, his rendition of Lean on Me brings the kids to their feet.
Today, Leslie has a good relationship with his mom and dad. Dad lives in South Carolina; mom lives in Chicago, but has suffered a stroke that has left it difficult for her to speak.
"I often call my mom my hero," Leslie said. "I was frustrated with her a lot as a kid, but with mature eyes, I can look and see what she had to go through," including losing her own mother at age 10.
And his dad? As Leslie grew older, Leslie went to South Carolina to spend time with him. One summer, he went with his dad to sing at different churches. "He eyes lit up whenever he would see me."
He and his wife Elizabeth, who writes for The Lutheran magazine, have two young sons.
"Now with my boys, I make sure, no matter how my day has gone or how I'm feeling, that my eyes light up when I see them."
His work is who he is. He is a storyteller, a musician, a poet.
"I get to use everything I love. I get to give it to these kids," he said of the students at Holy Family School. "I don't know any other way to be."