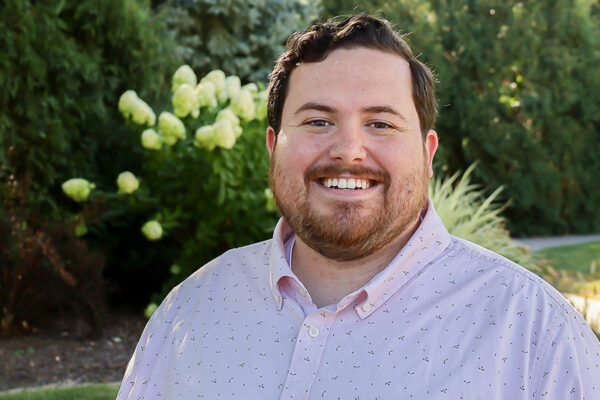 Each time I drive home from church, my path takes me past Brady Street Stadium. Nearly every day, there's one school practicing and another playing a game. On evenings when I get home late, I'm treated to the Friday night lights as everyone enjoys the new autumn air and cheers for their school. This brings back memories from my own teenage years, sitting in the stands with the rest of the marching band, cheering on my own team with my friends and family all around. Even though I'm here in Iowa now, seeing the American tradition of fall football is enough to bring back those happy memories. 
I've been thinking about traditions a lot recently. Fall is replete with them: apple picking, corn mazes, bonfires, Thanksgiving gatherings, and even the beginning of the church season of Advent. My own family's particular fall activity was to pile into the car and drive down the Blueridge Parkway in the North Carolina mountains so we could see the beautiful yellows, oranges, and reds of the changing leaves. St. Paul has many of its own traditions, some obvious, some subtle. As the new guy, I'm doing my best to learn them all. From children stretching their arms wide to declare Christ's peace to a donut and cup of coffee after the service, I'm sure we each have our favorites. But whether it's spending a Friday evening in the bleachers, debating the best way to cook a turkey, or cozying up with a book as the weather cools, I think half the reason we love our traditions is because of the people we do them with. 
Baking cookies and sweet treats with grandma isn't half as fun when you do it by yourself. Neither is a late-night fire without a group of friends or family to share it with. Traditions are ways in which we can express who and whose we are. The church across the world has its own special traditions: gathering to share in God's word, being washed in water and forgiveness, breaking bread, and sharing a meal of faith. These traditions remind us that we are adopted children of God, that we belong to God, that we belong to one another. And it's hard to imagine doing them alone. "Where two or three are gathered in my name, I am there among them," says Jesus in Matthew's gospel. A tradition done by one's self is more of a habit than a tradition, isn't it? Sharing in the joy, the humor, the boredom, or the community of a shared tradition is a crucial aspect of abundant life. I hope that as your own family or friends gather for parties, dinners, activities, or just simply time well-spent together, you'll be filled with the love that comes from sharing in a moment of life together.