3
Fight against the death penalty
Editor's note: All St. Paul Reads is encouragement for all to read and talk about a single book. In 2017, the event will take place on Thursday,  February 9, 6-8 p.m., with dinner and discussion about Just Mercy: A story of justice and redemption by Bryan Stevenson. St. Paul member Tami Mahl will share her experience working on a death penalty case early in her legal career. Just Mercy is available for purchase for $10 in the St. Paul Book Corner. Sign up online or outside the Book Corner.
The first time Tamara Byram (Mahl) met John Sullivan, he brought a six-pack of Coca-Cola to share.
"I know you've had a long journey," he told Tami and her colleagues. They had traveled from Minnesota to Louisiana, via a flight to New Orleans followed by a two-hour drive through Louisiana's back roads. "I brought you some refreshments."
The year was 1991. John was a death row inmate at Louisiana State Penitentiary at Angola, one of the most notorious institutions in the country. He had been brought in to a visitor's room at the prison, feet shackled, convicted of murder and sentenced to death after a one-day trial nine years earlier.
Tami had been admitted to the bar only a few months.
"After the security screening (rifling through the papers in every folder in my briefcase, through my cosmetic case — even opening lipstick tubes and checking pens and pencils), we were escorted to the building housing the warden's offices and death row," Tami said. "The most unsettling part was that the guard had to use a key to open every door for us to enter, and upon crossing each threshold, the door would close and lock behind us. The sound of the doors locking in the silence is one that sticks with me to this day."
Tami was one of a team of people – ultimately comprised of 12 lawyers, 20 summer associates, 3 legal assistants, and local counsel who worked more than 3,645 hours of pro bono (free of charge) hours over the course of more than eight years – to defend John on his appeal.
Their job? To go back and help the courts determine whether justice was served in the case of Louisiana v. Sullivan. Along the way, Tami was one of three attorneys who appeared on behalf of John in front of the U.S. Supreme Court – and won.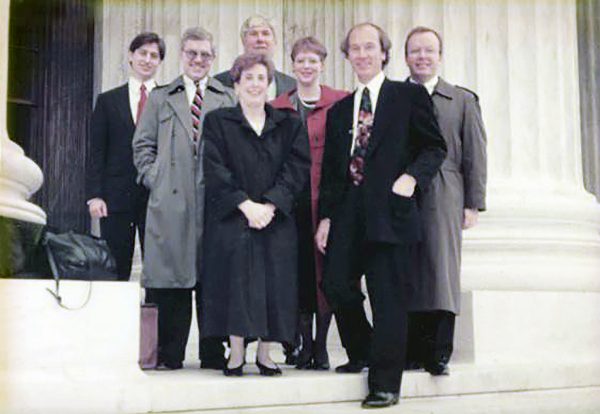 John Sullivan had been in jail since his arrest on April 14, 1980, on a charge of first-degree murder, according to documents from the American Bar Association. The case involved the death of a man during a robbery at the C-Note Lounge in New Orleans. In 1982, John went to trial and was convicted after a one-day trial. The next morning, the jury returned its recommendation that John be sentenced to death.
In the summer of 1989, the Minneapolis law firm that Tami subsequently joined, Dorsey & Whitney LLC, volunteered to take on John's appeal.
A private investigator eventually uncovered witnesses and evidence untouched by John's prior counsel. Significantly, the initial police report was discovered, revealing information the prosecution should have disclosed to John's trial attorney.
In addition to uncovering evidence of John's innocence and that pointed to another individual as having committed the crime, Dorsey lawyers also conducted an exhaustive review of John's background. They interviewed John's family members and were able to develop the record necessary to present what's called "mitigation evidence," which is introduced during the penalty phase of a capital case.
The defense team discovered substantial evidence that John's appointed trial attorney had not pursued. "He had a horrendous childhood full of abuse," Tami said.
Also, the team was able to obtain John's records from prior federal incarcerations. They indicated that John was diagnosed as schizophrenic in 1968, a fact that also should have been revealed at the original trial in 1982.
They asked for a new trial. Ultimately, after a lengthy process, the courts upheld John's conviction for murder but overturned his death sentence, due to his trial attorney's lack of preparation for the penalty phase of the trial and failure to call any witnesses or introduce any mitigating evidence for the jury to consider.
John was sentenced to serve the rest of his life in prison.
In 1992, the defense team filed a petition with the U.S. Supreme Court, arguing that the instructions to the jury about the reasonable doubt standard were flawed in John's case. The court agreed to hear the petition. Three lawyers could be present at the lead counsel table for the defense.
Tami was chosen to be one of those attorneys.
All of the attorneys with cases being argued that morning at the Supreme Court met in a large conference room. The room was filled with a "who's who" of famous attorneys, Tami said. A clerk came in to talk about various "housekeeping" items. The attorneys were lined up and escorted into the courtroom.
"Our case was third to be argued, so we heard the cases ahead of ours and then it was our turn to quickly take our place at the front table," Tami said. "Seated there during the arguments, we were only a few feet away from the justices – whose writings we had studied for years. It was simply electrifying."
Ultimately, the U.S. Supreme Court ruled that John's Sixth Amendment right to a jury trial was denied because of a deficient beyond-a-reasonable-doubt instruction to the jury. Since this standard is fundamental to a fair criminal trial, the Supreme Court overturned his conviction.
The state of Louisiana decided to retry the case. At his final trial in 1995, John was found guilty of second-degree murder and sentenced to life in prison, where he subsequently died. Still today, if it is determined that a jury is given an erroneous instruction regarding reasonable doubt, any conviction must be reversed.
During the years that Tami worked on the case, she had a second opportunity to visit John at Angola — for a "Death Row Appreciation Day." For the first time, the warden had permitted each death row inmate to invite two of their advisors — either a lawyer or a pastor or spiritual advisor — for the event. Tami was one of the two attorneys John invited.
Over cookies and lemonade in a prison conference room, they talked and reminisced. Sister Helen Prejean, a vocal critic of the death penalty, was there. She spoke, as did the prison's warden.
Tami, who now is the vice president of legal and compliance at UnityPoint Health Trinity, remains a skeptic of the death penalty. "Judges, juries, lawyers – we're all human," she said. "We have the best justice system in the world, but it's not perfect."