2
From St. Paul, to St. Paul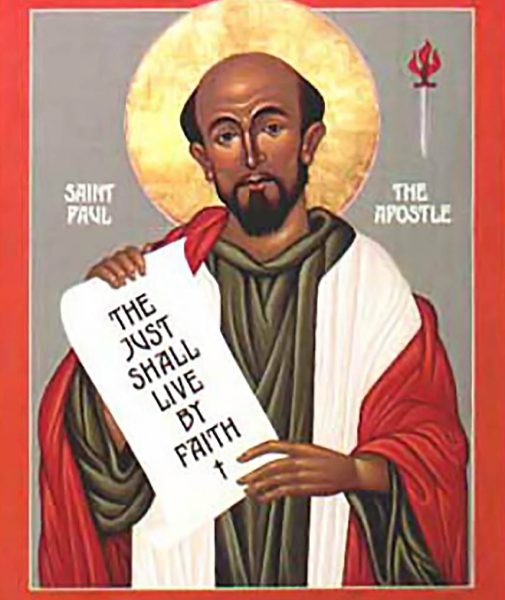 On the 500th anniversary of the reformation, the people of St. Paul the Apostle Catholic Church in Davenport had an idea.
The reformation was when Martin Luther posted his 95 theses, and a division in the Catholic church took place –  very simply put, one group remained Catholic and one group became Protestants.
Their idea? Reach out to the people of St. Paul Lutheran Church, in a spirit of celebrating commonalities. They chose a contemporary artist's lithograph of the saint both congregations are named after.
The piece now hangs in the office conference room at St. Paul.
"We offer this token of friendship as you mark 500 years of the Lutheran Church. We recognize that much progress has been made in ecumenical dialogue and affirm our common belief in the Gospel of our Lord Jesus Christ, and his message of God's love for all. 'For therein is the righteousness of God revealed from faith to faith: as it is written, the just shall live by faith.' Romans 1:17." – From your neighbors at St. Paul the Apostle Catholic Church.
Tony Schiltz is one of the St. Paul the Apostle people behind the gift. He is a member of the prayer and worship commission of the church. "We wanted to affirm all of the good work you do," he said. "And, we wanted to let you know that we are thinking about you as you mark this anniversary."
The commission carefully chose the contemporary lithograph, created by Nicholas Markell. He has spent 20 years making ecclesial art. He received a M.A. in sacred theology and an M.Div. from the Washington Theological Union in Washington, D.C. He creates award-winning stained glass windows, iconography, and graphics.
In this particular piece, "Paul is shown with a sword and flame, symbolizing his passion for the sharp and true world of God. In his hands he holds a scroll with the phrase, 'The just shall live by faith.' These words of Paul remain the bedrock of Christian faith and thought to this day."
The icon is often made into a prayer card. On the back, is a prayer for patience.
O glorious St. Paul, who from a persecutor of Christianity, didst become a most ardent apostle of zeal; and who to make known the Savior Jesus Christ unto the ends of the world didst suffer with joy imprisonment, scourgings, stonings, shipwrecks, and persecutions of every kind, and in the end didst shed thy blood to the last drop, obtain for us the grace to receive, as favors of the Divine mercy, infirmities, tribulations, and misfortunes of the present life, so that the vicissitudes of this our exile will not render us cold in the service of God, but will render us always more faithful and more fervent. Amen.