Growing butterflies
It's just a tiny, tiny speck on the bottom of a milkweed leaf. Shaped a bit like a football, this beginning of life gives Carol Seitz great joy.
Carol, a master gardener, is one of the people who tend to a butterfly garden on the grounds of the Iowa State University Extension Office in Bettendorf.
Brightly colored nectar flowers draw the butterflies in. Zinnias. Marigolds. Sunflowers. Daisies. Coneflowers.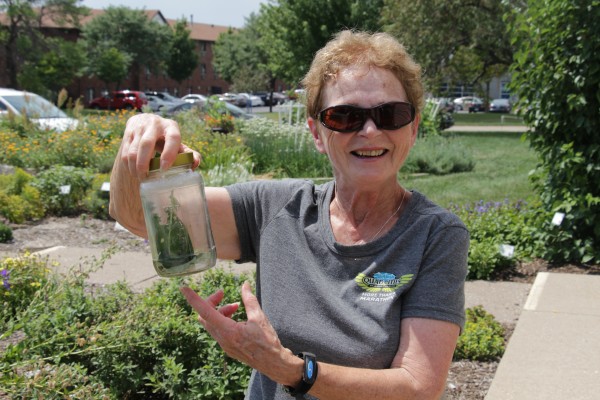 Hosts plants give caterpillars a place to grow. Dill. Hibiscus. Violets. Milkweed. Black-eyed Susan.
There's no doubt that monarchs are struggling on this Earth. The total area of overwintering colonies of monarchs in Mexico averaged 6 hectares from 1994-2015, according to Monarch Watch, an organization devoted to the health of the monarch population. But when looking at the numbers from 2004-2015, that average falls to 3.30 hectares.
But there is a glimmer of hope this year. It seems as if there are quite a few more monarchs around. "I hope it's true," said Carol.
Carol took the required classes many years ago to be a master gardener through the Iowa State University Extension. Master Gardeners are passionate about serving and sharing gardening best practices. They volunteer in community gardens, city beautification projects, and farmers markets, among others.
In Carol's case, in addition to the butterfly garden, she helps with teaching kids who attend programs at the Friendly House in Davenport. The kids tend a garden at the center – and get to take the food they produce home to eat with their families.
Carol's own garden at home is a place for food (she's got an amazing crop of apples this year), and monarchs, too. She watches as eggs become caterpillars become monarchs. It takes a keen eye to see these things among the plants in her back yard nestled along the Mississippi River.
She smiles when she holds up a jar with a caterpillar and milkweed from her yard inside – it's God's creation at work.