On the airwaves, from miles away
Every Sunday morning at 8:30 a.m., people anywhere with a radio or Internet access can hear worship from St. Paul. A previous week's service is condensed and played on WOC1420 and on iheartradio.com.
Three volunteers rotate through this weekly duty, editing the file for broadcast and sending it over to WOC. Jerry Nelson, Don Schmidt, and Gerek Fritz have logged years of faithful service.
Gerek now volunteers from Texas, where he recently moved for work. He was baptized and raised at St. Paul.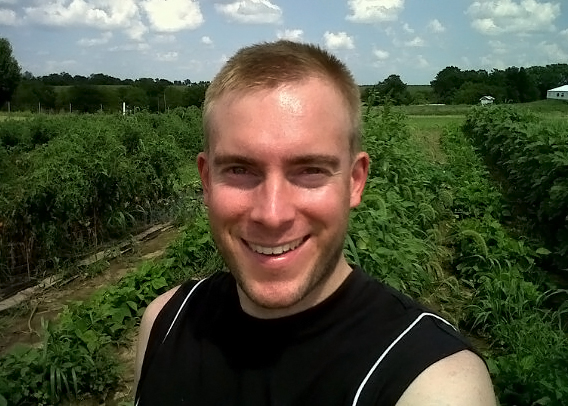 How did you start volunteering for the radio ministry?
I began serving on the Radio Ministry Team in December 2008. Mary Miller (now-retired minister of outreach) asked if I would be interested to join the team with Jerry Nelson and Don Schmidt. The three of us rotate, so every three weeks I'm responsible for editing the audio file and uploading the file to WOC. I have a degree in film and video so I'm able to take my experience of editing video and applying it to edit audio tracks. The whole process takes about 2 – 3 hours.
Why do you believe the radio ministry is important?
If one week the message speaks to hundreds or to just one person and they feel God's presence in their life, it's worth it. Seeing and hearing of people come to God with open arms and an open heart is awesome because it has a supernatural power of changing lives like it did for me. Taking God's word outside of the church walls and into the community through broadcasting or in person is one reason why God created us.
How does it feed your own faith?
When we have a hunger for God's word, God speaks to us not only when we are at church, but also through other ways. Reading and listening to God's word with expectation allows us to build our faith. God's word feeds our inner spirit to remain focused on God each day.
What do you do in Texas? What town do you live in? How long have you been a member at St. Paul?
I moved to the Dallas/Fort Worth area January 2014. The move was due to job/company relocation for Westar Satellite Services. I'm the Master Control Supervisor. We originate the signal for a few TV stations across the country. I was baptized and raised at St Paul since I was an infant and I'm 37 now. St Paul was my church foundation when I've lived in the Quad Cities. Sunday school, confirmation, my first communion, Camp Shalom all happened through my connection with St Paul.
Why do you continue to volunteer in this way for St. Paul, despite the distance?
St Paul has always been a part of my life. I've seen the church community grow and the church expand physically through remodeling over the years. Hearing the services allows me to stay connected to the church. Technology makes it easy to continue serving the radio ministry even from a distance. This radio ministry is a team effort. Through the tithes from the church the ministry is made possible.
My parents (Manny and Sandy Fritz) have been excellent role models of serving St Paul in many ways and they continue to do so. I'm continuing the rewarding tradition they started into my generation along with a strong purpose to serve God.