Happy surprises
The starting, she says, is the hardest part. Blank canvas. Empty memory card. Piece of tree bark. That's when creating is the most difficult, most intimidating.
But then Marie Stephens begins – and wonderful things come to life. "The floodgates open and I get all sorts of ideas," said Marie, who works from her dining-room-turned-art-studio in her north Davenport home.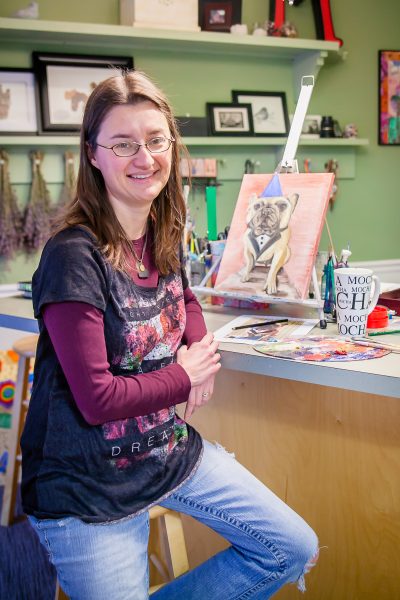 Each of her works has a story – of how they were made, why they were made, what went right, what went wrong. Nature is a recurring theme throughout her paintings, photographs, jewelry, and earthen materials works. Many are displayed in the home she shares with her family.
One, for example, is a fox made from ink and the bark of a tree in her back yard. She calls it and others (a llama, elephant, rhino, koala) made from the same method "Happy Surprises."
"I go out into my garden, feel the heat of the sun on my back, and then head under the shade of the weeping branches of my beautiful river birch tree. Then I begin to peel the papery bark from the trunk. It's a completely random process. The only planning involved is to try to peel a piece large enough to work on," she writes. "After peeling a few pieces, I examine each one, and ask myself, what does this one want to be? I begin seeing familiar shapes and the images come alive in my mind's eye. Each piece so far has looked like an adorable creature of sorts. I love the earthy feel and the different tones and textures of this completely renewable resource found steps from my back door.
"The thing I love the most though, is that there is no way to make two pieces exactly the same. Each one is an original piece of art, through and through, and is the result of a random, freeing act of tearing a sheet of paper from a tree."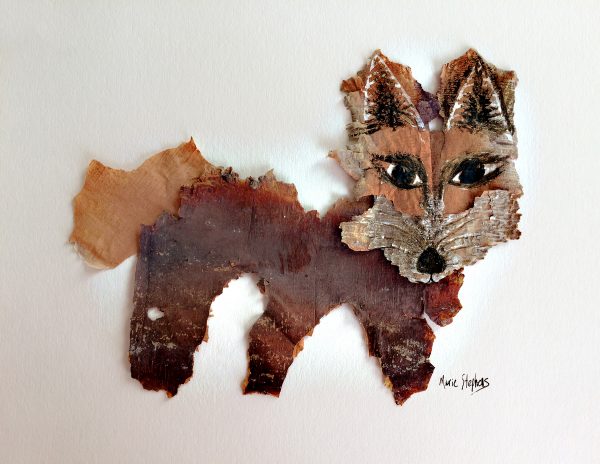 Marie has a degree in horticulture from Iowa State University. She worked in beautiful places such as Longwood Gardens in Pennsylvania and the Chicago Botanic Gardens. The work, she said, gave her the chance to learn about colors and textures.
After time, she and her husband, Tim, moved back to Iowa to farm with his family. They grew cut flowers that they sold to businesses and individuals. Her first online shop sold dried flower wreaths. With a move to the Quad Cities, Marie is able to focus her work on making art.
As Marie continues on in her creating, she sees herself making more art that will convey a message. One such piece explores the French phrase Je suis, which means "I am."
"My goal in creating this painting was to inspire social change for the better. Rather than searching for man-made solutions for our broken world, I have prayed, through the process of creating this painting, for God to inspire all of us to love and forgive one another as God continues to love and forgive each of us.
"Je suis means 'I am' in French, and I couldn't help but see Jesus in the phrase as well."