In the pause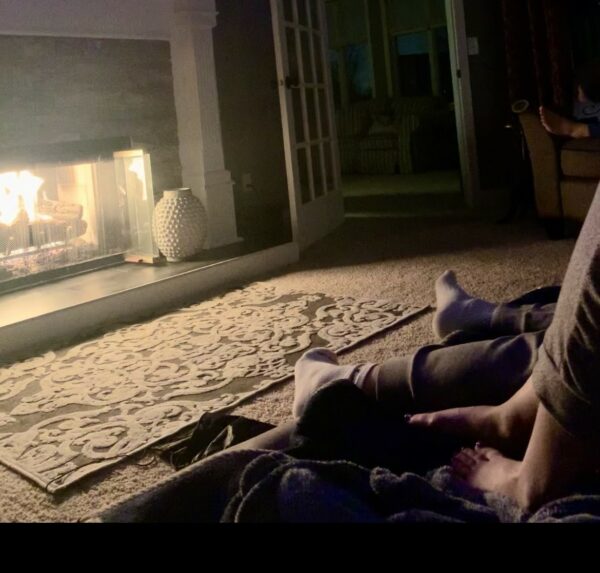 The theme of this year's Advent devotion is: Do you see what I see? An array of St. Paul voices selected a photo or photos that hold very special memories to them, then sat down and reflected on what that photo means to them. What do they see and remember that others may not when looking at this photo? Through their words and stories, hopefully, you'll see a little of what they see.
A book, some feet, and an ornament purchased from the Lillian Vernon catalog over a decade ago! I'm not a fan of math, but I do know the phrase "common denominator," and the commonality reflected here is my favorite part of Christmas. Intentional quality time! Our family is what some call "crazy busy." Each year when I pull the featured book from the boxes of Christmas decorations, I stop for a second (or 40) to sit down in my chair and absorb my favorite poem, "Stopping by the Woods on a Snowy Eve" by Robert Frost. It reads: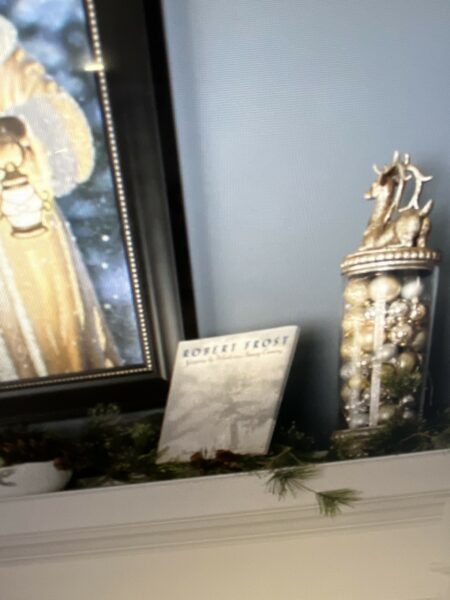 Whose woods are these I think I know.
His house is in the village though;
He will not see me stopping here
To watch his woods fill up with snow.
My little horse must think it queer
To stop without a farmhouse near
Between the woods and frozen lake
The darkest evening of the year.
He gives his harness bells a shake
To ask if there is some mistake
The only other sound's the sweep
Of easy wind and downy flake.
The woods are lovely, dark and deep,
But I have promises to keep,
And miles to go before I sleep,
And miles to go before I sleep
The poem sparks reflection, steadies my heart, and provides clarity about where I feel God's presence during the holiday. It's in the pause. It takes me back to the woods of my childhood home and the silence of the snow falling in that space where, even as a little girl, I felt holy peace.
The pictures trace tradition. Those are the feet of my babies at the end of a day coveted by me each year. A gift of an hour of windshield time each way to Weber's Christmas Tree Farm, bundled in layers, with Christmas tunes, arguing, stories, and laughter filling the truck all the way there and back. The day wraps up cozily at home in a dark living room with a "blanket nest" built on the floor for the pajamaed siblings who pretend to be annoyed with one another as we watch the latest favorite Christmas movie. Over the years, baby feet turned teenaged feet turned size 10 and 13.5 feet, still in front of the fire as darkness falls over the outside, snuggling us in. A precious day during a busy holiday season when I "stop by the woods" and praise God for the ways God fills our lives abundantly.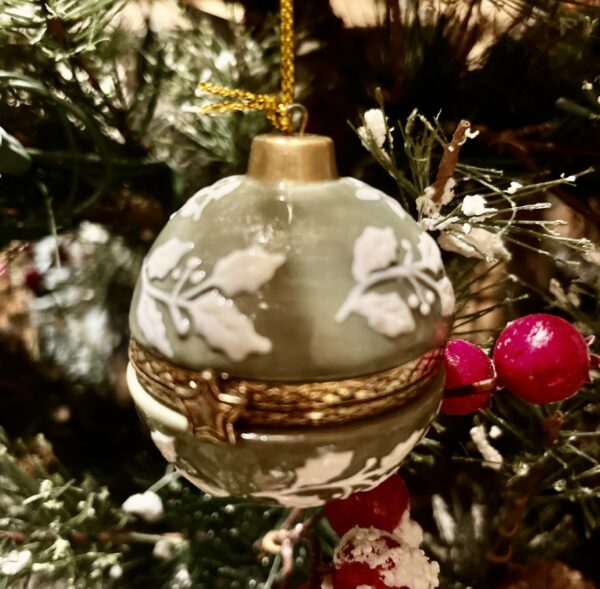 On that lighted tree are 4 ornaments that open with a small latch. A red one painted with deer (Todd's), a sage green (Madi's), one country blue (Jake's), and a heart adorned with holly leaves, mine. They were advertised as a way to gift money, however, have instead offered a unique blessing quite opposite. Instead of money, the ornaments are filled with a small note written throughout the holiday season to one another. On Christmas morning we stop to read our notes aloud with vulnerable, soft hearts filled with the euphoric love only God can provide.
Intentional time. Those perfectly selected gifts are of far lesser value compared to the gift of genuine love held in the words tucked away in those Lillian Vernon ornaments purchased so many years ago!
Praise God for our pauses, for the magic of the Christmas season that manifests softer hearts, a celebration of our Savior Jesus, for the grace given and love grown through loss, for moments of holy peace that feel like childhood, and favorite poems.
Stacy Hornbuckle is a retired stay-at-home mom who invests her time now with the youth of St. Paul, as a CBS Core Group Leader, and as the intake coordinator and decorator for Humble Dwellings! She lives in Bettendorf with hubby Todd and spends a lot of her time with family in the area and treasured friendships made over the years!