Sacred spaces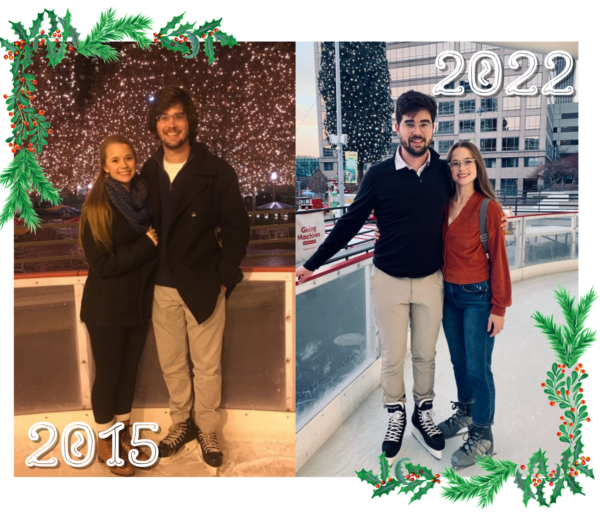 The theme of this year's Advent devotion is: Do you see what I see? An array of St. Paul voices selected a photo or photos that hold very special memories to them, then sat down and reflected on what that photo means to them. What do they see and remember that others may not when looking at this photo? Through their words and stories, hopefully, you'll see a little of what they see.
My husband Max and I had our first Christmas together in 2015. We'd only been dating for a few months at that point and were still getting to know each other. In the classic holiday spirit, we went ice skating at Kansas City's Crown Center with his parents after Christmas shopping on the Plaza. I remember my surprise when Max continued skating around the rink when I paused for a break and was weaving effortlessly between groups of people at high speed before cutting to a quick stop next to me, spraying ice on the wall. This former competitive hockey player had just spent 20 minutes patiently skating around in circles with me while I "got warmed up."
I remember feeling both embarrassed about my skill level, but also reassured by his gentlemanly way of skating slowly with me around the rink. This was one of the first significant memories we made together, and it certainly felt like a fairy tale! Crown Center will always be a special place for us.
This year, Max and I went skating with his younger brother, Chase, and his girlfriend, who are celebrating their first Christmas together. It was an extra special trip to the ice rink this time because Chase, who is no stranger to the ice and outfitted in his very own hockey skates, zoomed around the rink with Max while I slowly and carefully skated at a much safer speed with Chase's girlfriend. I wonder if Crown Center is now imprinted with a similar happy memory for them like it is for Max and me, making it a special place for them.
This time of year, we tend to gravitate back to those special and sacred places, like the homes of grandparents, or maybe back to the churches or communities of our childhoods.Some Christians may even travel across the world to visit the Holy Land to walk where Jesus did, visiting numerous consecrated spaces to experience the holy. Others of us try to create a little bit of that holy space in our own homes. We set nativity scenes in yards and on mantle pieces. We hang ornaments and photos we've carried with us from place to place over the years. The sentimental and the sacred go together as we seek to experience Advent and Immanuel: God with us.
Wherever you find your sacred space this Christmas season, may it fill you with the true holiday spirit.
Liz Franks is the youth coordinator at St. Paul, and she and her husband Max are both Iowa natives, living in Bettendorf with their labradoodle puppy, Charlie.