Lillian Nelson turns 100
Every day, Lillian Nelson sets out in the hallways and on the sidewalks of Ridgecrest Village for her mile-long walk. She uses a walker, known as her "hot rod," to help steady her just a bit. She is 100 years old, after all.
Visitors to her apartment will hear about how the Cubs are doing. She washes her own dishes, and loves to dress well.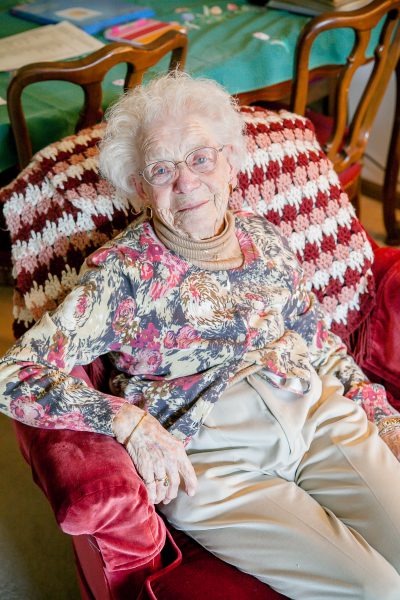 Lillian is the only St. Paul member who currently tops 100 years old. She will be one of two centenarians at the end of May, when Evelyn Moeller reaches the milestone, too.
"It's been better than I could have imagined," she said of her life well-lived.
Lillian was born on a farm near Princeton, Illinois. She was one of six girls and one boy. Her brother sadly died in a farm accident.
Her mom and dad had an 8th-grade education, so they were determined that their girls were going to go to college. And that they did. In 1936, for example, three of the girls went to school, for $125 a semester in tuition and $125 in room and board. Lillian graduated from Knox College with a major in math and minor in history. She earned $1,000 a year for her first teaching job.
On a Luther League trip (Luther League was similar to youth group now), she first met a young man named Harry Nelson. Four years later, while taking courses at the University of Wisconsin, she met him by happenstance at a student mixer. They went for a drive around the lake in his car. And the rest, as they say, is history.
"We had a wonderful romance, and a wonderful life," Lillian said.
Their courtship was primarily through the mail, as he taught in Nebraska and she taught in Iowa. She has the shoebox full of letters to this day. They occasionally got together during the holidays, and married in 1941.
Through the war, Harry led officer training. The course of life led them to the Quad Cities, and Augustana College. They had three children.
Astronomy was a passion, and the couple traveled around the world to view what Harry called "nature's grandest spectacle" in places such as the Sahara Desert, the middle of the Pacific Ocean, Canada, and an airplane. They lived in Indonesia for a time, too. The planetarium at Augustana came to be, due in part to Harry's work.
Lillian remembers when transportation shifted from horse and buggy to cars, and countless other milestones that many of us only can read about in history books. She was there at the founding of Circa 21 dinner theater, and still supports it to this day. She loves the Quad City Symphony, too.
Most Sundays, St. Paul people will see Lillian at church. Fellow member Eric Engstrom gives her a ride, and walks in by her side. It's a return favor for when Eric was in college with one of Lillian's children. He missed his train back home for Thanksgiving once upon a time, and the Nelsons made sure he made it home on time for holiday dinner.
"I owe you a ride," Eric tells her.
Lillian is the oldest of her six sisters, women who live from coast to coast. One just recently passed away. And now, Lillian has a great-granddaughter named after her. She treasures a photo of Lillian holding Lillian.
"I've never had such a thrill in my life," she said.