Jo & Carma Drecshler mark 75 years
Jo and Carma first met in high school. She was a Presbyterian, he was born into St. Paul Lutheran. He invited her to come with him to Luther League – today's equivalent of youth group.
Seventy five years ago, they married at the old St. Paul at 14th and Main.
The Drecshlers can still hardly believe it.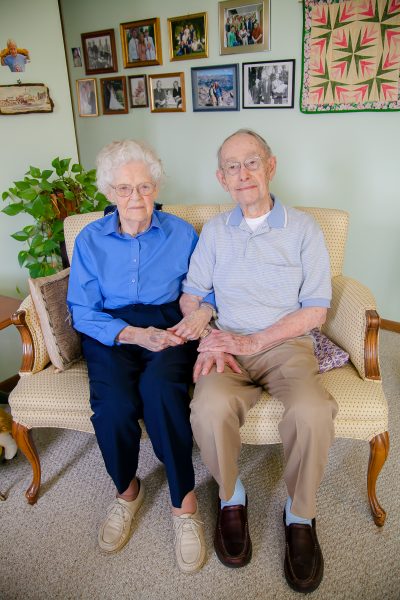 "We comment every now and then how many years have gone by," Carma said as the two sat in their living room at Ridgecrest Retirement Village. They are both 95 years old.
Jo was one of four children of a German immigrant. He was born at 430 W. 16th St., Davenport, "either in the house or the chicken coop," Jo said with a chuckle.
Carma lived at 2207 Ripley Street. Her father died when she was 8 months old, and the family ended up moving to a house at Central Park and Farnam.
They lived most of their married life at 3026 Davenport Avenue in Davenport. They raised five kids there, two of whom have died. They loved to camp, and they traveled to all sorts of places, including Russia and China. Much of their social life revolved around friends at St. Paul, especially a monthly supper club with fellow couples.
Jo faithfully volunteered at a Davenport elementary school, where the kids knew him as Grandpa Jo. He also loved woodworking. He displays a collection of his work, including leaves of different types of trees made from the wood of the specific tree. And, he has made intricate miniature buildings from cereal boxes, too.
To celebrate their 75th wedding anniversary, family came for a celebration at Ridgecrest. They attend chapel there on Sunday mornings, as coming to St. Paul proves to be challenging these days.
They use the kindest of words to describe each other.
"We have both changed over the years," Carma said, "but we love each other. We don't know how we could have managed without each other."
Carma, Jo said, is friendly, cheerful, courteous. Jo, Carma said, is steady, faithful, loving.
"She's a good kid," Jo said.
And at night, as they fall asleep, Jo will always say a prayer, thanking God for another day together.