Mission in Madagascar
Editor's note: Meridyth Bates is spending a year in Madagascar as part of the Young Adults in Global Mission initiative of the Evangelical Lutheran Church in America.
Q: Tell us a little bit about your path to serve – what choices did you make, how did you learn about the opportunity?
A: I never thought that I would end up here in Madagascar with YAGM. I didn't even grow up Lutheran! But as I was nearing the end of my college career and thinking about my future, I had this "feeling" that I was not meant to go into the workforce right away.
I felt as if God was calling me to explore other options. This is when I stumbled upon YAGM. I had asked Pastor Sara (Olson-Smith) about different volunteer programs she would suggest, and she mentioned YAGM. Everything about the program just felt right, including the attitude not of superiority and evangelism, but of accompaniment and walking alongside a new community, and I knew that this is what I would do.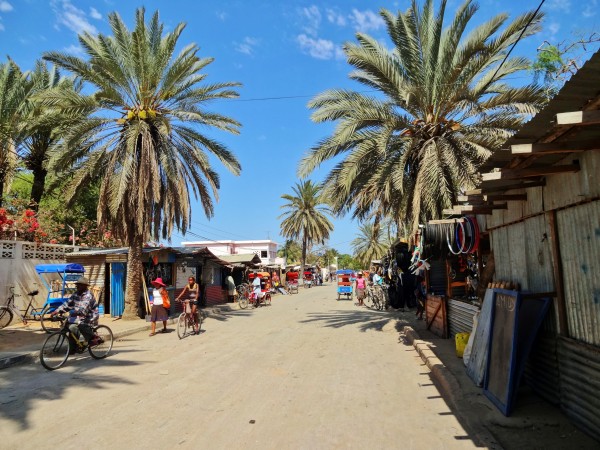 Q: What do you do day-to-day while you are there?
A: I am working full time-ish (about 30 hours/week) as a nurse here. I work at SALFA Toliara, which is a small hospital and clinic that is a ministry of the Malagasy Lutheran Church. My background is in obstetrics, so I help with the prenatal clinic, deliver babies, and also fill in at the vaccination clinic and the family planning clinic.
I am also leading an English club once per week for the workers of the hospital, and working on getting involved more with church activities, such as choir.
Q: Where you are living?
A: Toliara is on the southwest coast of Madagascar, right along the ocean but also in the desert. It is HOT and sandy!
The streets are lined with small wooden makeshift shops, open air markets, and many bicycle rickshaws, which are the most common form of transportation here. It is a city of about 150,000.
There is a lot of poverty here, with people sleeping in their makeshift shops, driving their beaten down rickshaws with no shoes, and begging for money on the side of the road. Garbage lines the streets, and there is often a smell of burning trash in the air since there is no community garbage service.
However, it is also a beautiful city. Palm trees grace every corner, the sun is always out and shining, people are smiling, little kids run around playing games they make up, and people wear colorful and vibrant lamba hoany, which is a beautiful cloth draped across the body, a traditional Malagasy way of dressing.
The hospital is very small, with only four inpatient rooms, along with the various clinics: dentistry, outpatient medication administration clinic, a laboratory, family planning, vaccination, the delivery room, and a few general practitioners. It is very rudimentary, with basic metal-framed beds, no air conditioning, shoddy electricity, and water that doesn't always run.
Q: What has been most challenging?
A: There have been two very difficult challenges for me so far. The language barrier is a definite obstacle. I've been trying to learn Malagasy, but it's a really challenging language, and very few people are fluent in English here. The other challenge has been the adjustment to this totally new culture with totally new people.
I have questioned God's call so many times even in the short time that I have been here, feeling as though I'm not strong enough to do God's work here. Everything is very new, from the culture and food, to the stories of difficult lives that are lived here in Madagascar.
It's a constant confrontation with the harsh reality of lives in poverty, something that my privilege of being a middle class American has allowed me to escape in the p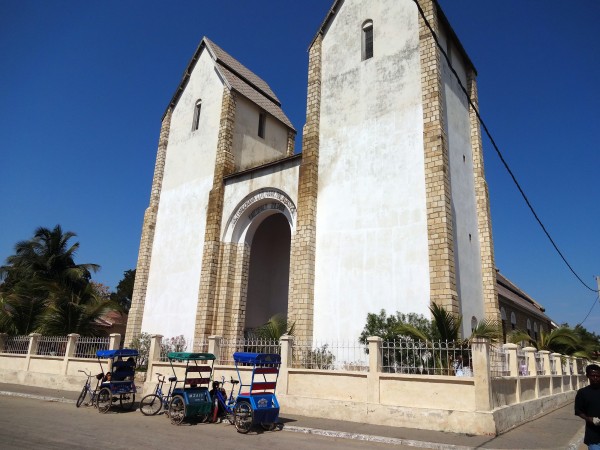 ast. Leaving behind my home, family, friends, and creature comforts in America and jumping into a culture where EVERYTHING is new has been at times beautiful, and at times very overwhelming.
Q: How does this work intersect with your faith?
A: I feel that as Christians, we are called to lead lives of service. Jesus set the example by reaching out to the poor and oppressed, and there is no question about whether or not we should do the same.
I do not expect this year to make a huge difference in many lives of the Malagasy people, but to see and experience the devastating poverty that is present in over 90% of the population here makes me realize that God calls us all to offer ourselves, our time, and our resources to these people in whatever ways we can.
Madagascar is so beautiful in so many ways, but the poverty here is undeniable. I hope that this year will shape me into a more aware person and Christian so that I will continue to live in a way that will help to address these issues.
I am more aware not only of the many privileges that I have, but also of God's work in the world in a global context. Already I've realized that we are all God's people, and we have so much to learn from each other. I believe that God is so present in community, and not just our own communities, but in the relationships we build and the exchange of ourselves with people all over the world.