1
Nourishing community: Cecil Duffy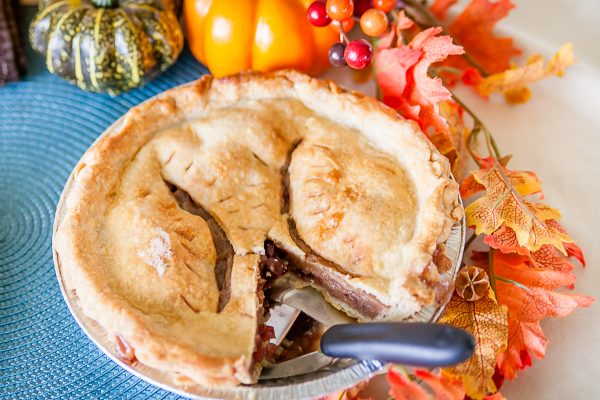 Take a moment and think of a favorite dish from holiday dinners of the past. What did it taste like? What was it served in? Who made it? Who was gathered around the table. So many times, food serves as the foundation of some of the most important memories of our lives. This Thanksgiving, St. Paul people shared their favorite recipes – and the stories behind them.
Apple dried cranberry pie
Submitted by Cecil Duffy
Ingredients:
3 ¼ pounds Granny Smith apples (about 8 medium), peeled, cored, cut into ⅓-inch-
thick slices
½ cup dried cranberries
¼ cup all purpose flour
¼ cup dark brown sugar
1 Tbsp fresh lemon juice
¼ tsp ground nutmeg
Pinch of ground cloves
3 Tbsp unsalted butter, cut into
½-inch pieces, room temperature
Crust: Use your favorite recipe or purchase one
Directions:
Preheat oven to 375°F. Combine apples, dried cranberries, flour, brown sugar, lemon juice, nutmeg, and cloves in large bowl.
Roll out pie crust and transfer to 9-inch pie dish. Spoon filling into crust and dot with butter. Roll out second dough disk and drape over filling. Trim dough overhang to ½ inch. Press top crust and bottom crust together at edge to seal. Cut four 2-inch-long slits in top crust.
Bake for 45 minutes. Cover crust edges with foil to prevent over-browning. Continue to bake until crust is golden, apples are tender, and juices bubble thickly through slits, about 55 minutes longer. Cool pie on rack.
The story behind the recipe:
Mary and I used to live in an old house that had a huge dining room. Back then, both of our children lived close so we tried to have Sunday dinner every week. The children soon had other things in their lives, and those Sunday dinners ended because of different commitments. Recently, I decided that we would try to do family dinners again on Wednesdays. Mary sometimes is working, so I cook and try to clean up as best I can. Some can make it and some cannot.  We have varying numbers in attendance but we always try to have it. So if you ever want to join us, just call before Tuesday so I can plan for you.