3
St. Paul welcomes social worker to staff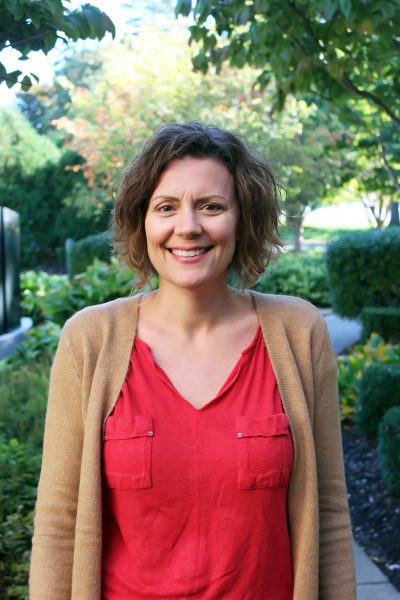 Three years ago, an exciting idea emerged that St. Paul could better serve its people, the families of Madison Elementary, and the wider community with a social worker on staff.
The idea is now becoming an early reality, with the recruitment of Angie Vaaler as a part-time social worker/counselor. Licensed with the state of Iowa, she began her work in October. Funding for her position in a pilot capacity is covered by the daily ministry budget for the remainder of this calendar year. Growth in pledged giving will be essential to continuing the position in the new year.
Angie will meet on an appointment basis with individuals and families seeking help for emotional care, crises, trauma, transitions in life, and fundamental social skills. She will engage a multi-disciplinary approach for helping individuals improve the outcome of their lives. She also will collaborate with clients to establish therapeutic goals and formulate action plans. The congregation will cover the cost of Angie's client contact time in order to provide free service for all.
"The idea of having a social worker on a central city church staff is a beautiful dream we're on the cusp of realizing. We obviously have to fund this position through generous 2019 pledge commitments. But provided that happens, the work that Angie is capable of doing is amazing. From community guests who regularly walk in off the street for help, to members of the church that need short-term counsel, to families at Madison school that have no way to access or afford professional services, there's no end to the benefit of having a licensed social worker available. I'm very excited by what this can mean for St. Paul's ministry."
She recently answered questions about her work in the past, and her hopes for the future.
How did you become a social worker?
I received a bachelor's degree from Luther College, with majors in psychology and Russian language & culture. Being interested in the mental health profession, I had explored the options of psychology, art therapy, and social work. After undergrad, I joined the Lutheran Volunteer Corps and spent a year working at the DC Rape Crisis Center. Being a part of an intentional community engaged in social justice and surrounded by social workers with a passion for their work, and being eager to develop my knowledge and skill, shaped my decision to pursue a master's degree in social work.
What experiences have you had that have shaped you professionally?
I received my MSW from the University of Iowa with a family-centered concentration. Through internships and work experience, I've had exposure to inpatient, partial hospital, and outpatient settings, predominately in community mental health, in addition to work with refugees and survivors of sexual abuse. This has given me a strong foundation in the clinical side of social work.
While living with my family abroad, I volunteered in several capacities: interviewing refugees seeking resettlement, developing a repatriation program for victims of trafficking, sitting on the allocations committee for United Way Russia, and starting an exchange shop for used books and uniforms at my children's school. All of these experiences fostered organizational, leadership, needs-assessment, and social-entrepreneurial skills, as well as an interest in addressing change at both the individual/interpersonal level and systemically.
In addition, I've had a number of faith-based experiences, from the Lutheran Volunteer Corps, serving as St. Paul's Young Adult Coordinator (2001-2003), and coordinator of Parents of Young Children at our church in Raleigh, North Carolina, to more recent involvement in St. Paul's Refugee Ministry, Mission Board, and serving as facilitator for the Patterns pre-marriage classes.
What interested you in this position? What are you most excited about?
The ability to support St. Paul staff in meeting the needs of the congregation, to assist in carrying out St. Paul's vision to further invest in and connect with our neighboring community, and the opportunity for growth.