2
Nourishing community: Sara Harless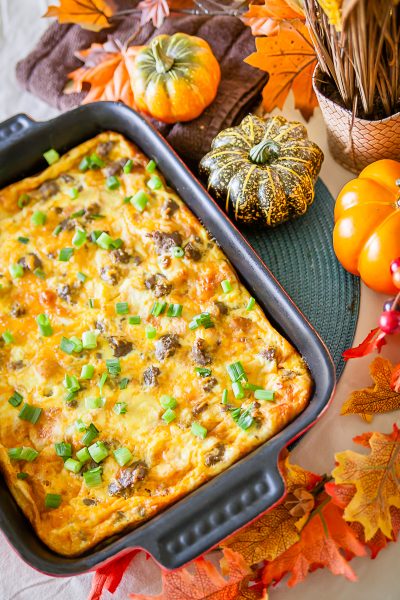 Take a moment and think of a favorite dish from holiday dinners of the past. What did it taste like? What was it served in? Who made it? Who was gathered around the table. So many times, food serves as the foundation of some of the most important memories of our lives. This Thanksgiving, St. Paul people shared their favorite recipes – and the stories behind them.
Egg Sausage Casserole
Submitted by Sara Harless
Ingredients:
6 Hawaiian rolls, cubed
1 pound ground breakfast sausage
1 ½ cups milk
8 oz. grated cheddar cheese
6 eggs
Salt and pepper to taste
Directions:
Brown sausage and drain fat. Mix all ingredients together well in large bowl. Place in a greased 13×9 glass baking dish and refrigerate several hours. Bake at 350°F about an hour until the center is firm.
The story behind the recipe
If you have had a baby at St. Paul in recent years and accepted the Mom's Morning offer of a meal train, then you have probably had this casserole! My kids often ask, "Who are we taking it to?" when they smell it. I take great joy in bringing a good, filling meal to a new mama. When I had my youngest child, I was diagnosed with post partum depression. The mom's group I was part of in Indiana brought me at least 20 meals on many days when simply keeping the kids dressed and alive was all I felt like I could do. I well remember the difficulty of those days, but I was never alone. Those meals were a reminder of how many women loved me and how God used them to care for my family. I am happy to have found the same kind of women who carry each other's burdens here at St. Paul.