'Our own house'
Ahlonko Kokou was a high school math and physics teacher in the country of Togo. He and his wife, Afi Amewou, dreamed of coming to the United States someday – so they started the process to come here on a Visa.
In a lottery type of process, Ahlonko was chosen to come. Eight years ago, he left his family and friends, and Afi, to come and start a life in the U.S. He visited Togo twice in the five years he and Afi were apart.
"The third visit, she came to see me," Ahlonko said of Afi's arrival in the United States three years ago.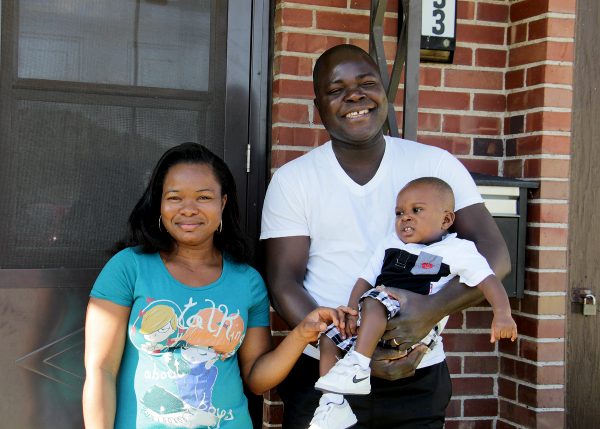 The two are now parents to a beautiful little boy named Ghislain. Ahlonko works at Tyson and is attending Western Illinois University to become an electrical engineer. Afi, a beautician in Togo, works at Kraft Foods. They work different shifts to minimize the time Ghislain is cared for by others. Each of them speaks three languages – French, Ewe, and English.
This summer, they will build a new home through Habitat for Humanity. St. Paul people will be some of the folks who will provide the labor.
"Our big dream is to have our own house," Afi said. "Our dream is to live with our family with no problems, in peace."
Their home will be at 1651 W. 17th St., Davenport, just up Division Street from the Putnam Museum. They broke ground in early May. Building will continue through the summer. It's one of several houses that will be started or completed this year – including the 100th home built through the Habitat program.
St. Paul people will swing hammers, saw wood, and raise walls. The church also provides a financial donation of $22,000 to support the building of this house, as well as the organization in general.
"We work alongside families to build that strong foundation for their future," said Dougal Nelson, director of development for Habitat Quad Cities. "Homeownership
builds strength, stability, and self-reliance. It helps shape a better tomorrow."
Families apply to Habitat to be considered for the program. They are chosen by the family's level of need, their willingness to be partners in the program, and their ability to repay the loan through an affordable payment plan.
Habitat works in a number of ways to create decent, affordable housing. Methods include new housing, renovation of existing buildings, and initiatives – such as one in the Floreciente neighborhood in Moline – that help people repair and improve their own homes and neighborhoods. Habitat also works in disaster response.
Once their house is complete, Ahlonko, Afi, and Ghislain will move from their second- story apartment in Moline to their home in Davenport. No doubt, their phone calls and letters home will be filled with joy.
"That house will be blessed," Ahlonko said. "We are so thankful for everyone's support. May God bless everyone who helps, give them long life and peace."
Afi echoed his gratefulness. "Habitat has become like a real family for us here."
VOLUNTEER FOR HABITAT FOR HUMANITY
Several Saturday and Wednesday evening dates are available to work on Ahlonko and Afi's home.
Saturdays: June 18, July 16, August 13. The morning shifts are 8 a.m.-noon, the afternoon shifts from noon-4 p.m. Lunch is provided; help is needed to provide lunch as well.
Wednesday evening: July 6, 5-8 p.m., dinner provided.
No previous building experience is necessary. To help, visit stpaulqc.org/signups.