YouthWorks staff brings passion for service
They are much like a compass.
From north, south, east, and west, four women have arrived at St. Paul for the summer. They will live on the lower level, guiding weekly crews of teenagers who will come to the Quad Cities to serve through YouthWorks, June-August.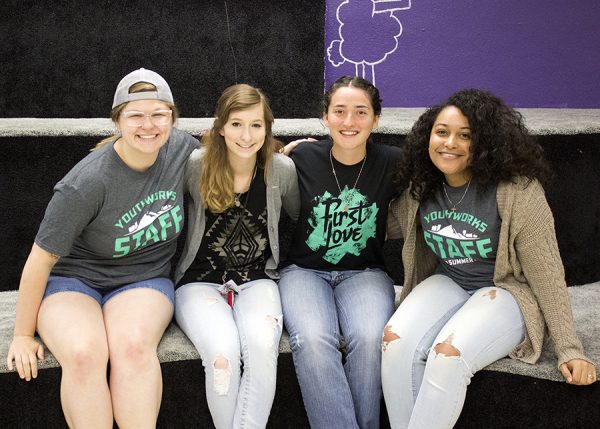 They hail from Arizona, Guatemala, Minnesota, and New York. Each has a different path planned for their lives. But they all have one important thing in common: they are enthusiastically looking forward to showing about 70-80 kids a week about the joys and challenges of serving others on a variety of projects in the region.
Mary Kate Lusson, site director (second from left)
Grew up in: Tuscon, Arizona
Attending college at: The University of Arizona, planning to become a nurse
Why YouthWorks: I went on a YouthWorks service trip to San Diego my freshman year in high school. I came back knowing that I wanted to be on the staff someday.
Hope for the summer: I really want to learn about servant leadership, what it means to pour my life out for others, like Jesus did.
Favorite food: Beef jerky
JoHanna Andrews, service coordinator (first on left)
Grew up in: Anoka, Minnesota
Attending college at: Bethel University, majoring in English as a Second Language education
Why YouthWorks: After a previous not-so-great summer job experience, she was drawn to YouthWorks because of its inclusivity of many different denominations.
Hope for the summer: I hope we can all learn that we can worship and glorify God in all aspects of service.
Favorite food: Dark chocolate covered espresso beans
Valerie McArthur, service coordinator (second from right)
Grew up in: Guatemala, daughter of missionaries
Attending college at: John Brown University in Arkansas, majoring in communications
Why YouthWorks: God's been preparing my heart for an experience like this. I picked up a brochure at school and decided to apply.
Hope for the summer: Love others well.
Favorite food: Peanut butter
Amber Vasquez, program coordinator (first on right)
Grew up in: New York
Attending college at: Philadelphia University, majoring in mechanical engineering
Why YouthWorks: I've been praying about where to apply for the summer, and YouthWorks was one of the organizations that stood out.
Hope for the summer: I hope the students will see God in this community and be changed.
Favorite food: I love milk.