2
Pastor Ron bids St. Paul farewell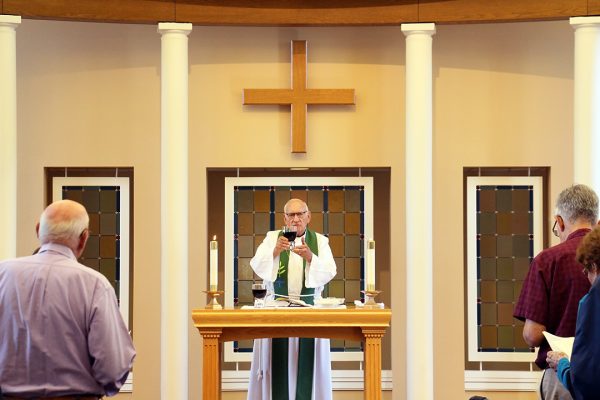 And to think – Ron Huber was not always going to be a pastor.
Losing his father at age 15, Ron felt a sense of responsibility to his family farm in rural Minnesota. After farming with his uncle for a few years, a local pastor who had became like a surrogate father, encouraged Ron to further his education. And so he did.
During his college years, he and a few other young men and women, called "under shepherds," helped rebuild a struggling church. It was during this experience that he met Karen. The couple married 56 years ago, in August 1963. After many college ventures including Lutheran Bible School, Westminster College, University of Minnesota, Augsburg, and some time in seminary, Ron was still undecided on his life path. So, he went into business with a friend, running a commercial cleaning company.
Yet, a return to seminary stayed on his mind. He returned to Luther Seminary in the summer of 1970, and was ordained in 1973. For the next 18 years, the name Pastor Ron became a part of congregations scattered throughout southern Minnesota.
During this time, he and Karen had two sons and adopted a daughter. Their children loved growing up in Minnesota, Ron said. Always a hard worker, Ron hand-dug the footings for their lake cabin. The Huber family loved spending summers at the family's lake property, where swimming and fishing were on the list of things to do.
On an average night in August of 1991, Ron had an interesting phone conversation with St. Paul member Shirley Schafnit about a need for his talents in Davenport, Iowa. Following this phone conversation, Ron told Karen that the time may have come for a move. They packed up and moved to Iowa. Ron has served St. Paul for 28 years. He will end his time with St. Paul this month.
"I never thought I'd stay in one place so long, but the doors continued to open and I've never questioned it."
Prior to their move to Minnesota, the congregation has the opportunity to express gratitude to Ron and Karen Huber at an open house reception on Sunday, Dec. 15, 3-5 p.m., at the church.
Cards are welcome and may be dropped in a basket at the farewell celebration. To give towards a congregational purse for Pastor Ron, please make checks out to St. Paul with "farewell gift" in the memo line and place in a separate envelope directed to St. Paul.
Ron has played a number of pastoral roles at St. Paul. For the last 10 years he has been the visitation pastor. Days include six to 10 personal calls, visits to members in their homes, and leading worship at Ridgecrest Village and the Good Samaritan Society. "I've been blessed more than I've been a blessing," Ron said.
Ron also serves as pastor at Salem Lutheran Church in Andrew, Iowa, a position he's held since 2009. Salem is a growing congregation in rural Jackson County. His last Sunday with them will be at the end of December.
Countless sermons, baptisms, funerals, hospital calls, and home visits allowed for Pastor Ron to touch an abundance of St. Paul lives – each one with the same care and love as the last. For that, St. Paul people say thank you – thank you for being a blessing to St. Paul. Godspeed.
Search begins for visitation pastor
The search for a visitation pastor, or non-ordained person with prior experience in visiting for ministry purposes, is now open at St. Paul. Following the retirement of Pastor Ron Huber at the end of 2019, this 20-hour-per-week appointment focuses on ministering to seniors in nursing home, care center, and hospital settings. Spread the word. Eligible candidates are invited to send a detailed letter of interest and resume to: visitationsearch@gmail.com. See a member of the pastoral team with any questions.
Editor's note: Article written by Destiny Ellingsworth, communication intern. Pastor Ron baptized her in 1999.