Praying about welcome
The prayers came in three different languages, from nine different traditions, falling on the ears and hearts of 100 people gathered.
They prayed for lawmakers and leaders; refugees, immigrants, and visitors no longer allowed to travel to the United States, temporarily and indefinitely; children and adults; the communities and churches who actively welcome the stranger. They also prayed for agencies like World Relief – agencies that resettle refugees.
The gathering was in response to the Executive Order put into place on Friday regarding restrictions on refugees, immigrants, and visitors to the United States.
"We need prayer more than ever," said Amy Rowell in opening remarks. She leads the local staff of World Relief, an international organization that serves refugees in partnership with churches, agencies, and the community. Their programs provide financial, emotional, cultural, and spiritual support to refugees – survivors of war and persecution around the world – placed in the Quad Cities.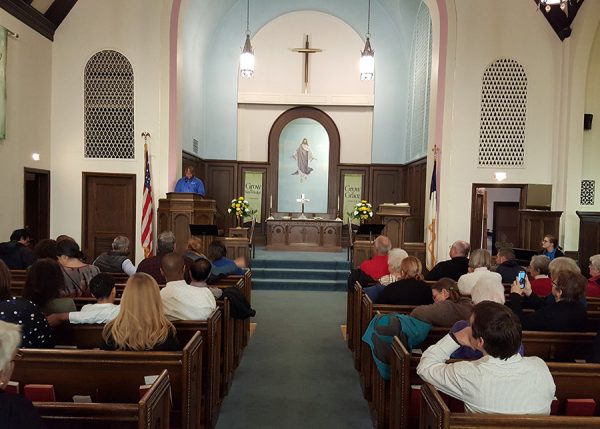 St. Paul partnered for the first time in 2016 with World Relief Moline to welcome a refugee family to the Quad Cities. A mom and six children arrived in September from the Democratic Republic of Congo after living several years in a camp in Uganda.
Pastor Katy Warren, who is part of the St. Paul refugee resettlement team, was one of the pastors who led the public prayers.
"When we are tempted to love only the people who look like us or talk like us, or only the people who literally live right next door to us, remind us again and again of who our neighbor really is," she prayed. "Guide us to follow your example in opening our arms, opening our hearts and minds to welcome the stranger, feed the hungry, clothe the naked, visit the lonely, and care for all people in need."
World Relief, which usually resettles approximately 225 refugees a year in the Quad Cities, anticipates that this year that number will fall to 120, Amy said. Jobs will be cut (including the part-time office-cleaning job of the mom of the family St. Paul is assisting). Donations of household and other items will not be accepted until refugees are allowed to resettle again, due to limited warehouse space.
A letter translated into 16 different languages will be available to explain to local refugees that they are safe and currently protected by law, Amy said. Refugee status does not expire – they can apply for a green card within one year of arrival, and citizenship within five years.
Support for refugees who are already in the Quad Cities will continue, she said. That includes medical, legal, and employment help from World Relief staff, congregations, and volunteers who assist and love in countless other ways.
Amy had one important messages for refugee families: "Do not give up hope. We as a people will stand with you."