Seminarians come to learn at St. Paul
The topic of the afternoon was fostering excellence in pastoral ministry.
Five students – Karyn Kost, Steven Gallego, Anders Nilsen, Kevin OBryan, and Daniel Heim – gathered with Pastor Peter Marty in the Luther Loft earlier this week, thinking through how to grow, achieve, create excellence.
The answers on how to grow in excellence may surprise – they involve humility, learning from others, embracing the importance of seemingly mundane habits, and developing depth.
"If you want to become a better pastor, become a deeper person," Pastor Marty told them.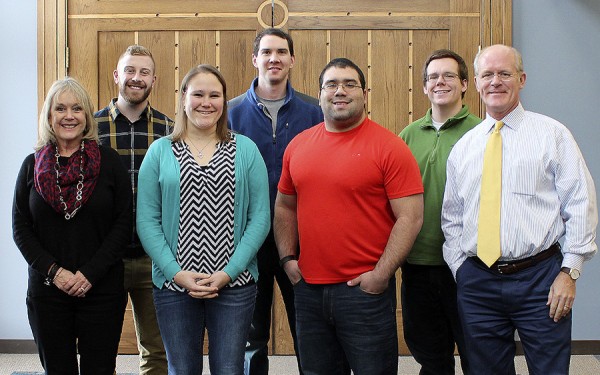 Deep people, he continued, have a quiet inner spirit, a dependable mind, an unwavering commitment to important things, an attachment to important projects that transcend their own time, care for people who lead very different lives than them, and an unconditional love that marks their more important relationships.
"Your job is to become secure in the Lord and in love with people," he said.
The students will be at St. Paul through Jan. 14. It's called J-Term, short for January term, an in-depth course offered for credit. All, with the exception of Dan, are students at Trinity Lutheran Seminary in Columbus, Ohio. Dan comes by way of Duke Divinity School.
For two weeks, seminarians experience ministry and congregational life at St. Paul. They gain insight on what makes the pastoral life so good, so meaningful, and so challenging. They also study key habits and practices for long-term vitality in the parish setting, strengthening healthy pastoral leadership skills so they can enter parish ministry with greater confidence and grace.
The course is led by Pastor Marty and Tammy Hermanson, residency program administrator.
Daily seminars focus on strategic thinking, decision making, effective church leadership, and pastoral imagination. They eat meals together. They engage with the people of St. Paul, too. They sat around the table at the weekly staff meeting on Wednesday morning and took part in the confirmation ministry in the evening. This weekend, they will be present at worship.
Back in Luther Loft, the students are learning that a really good pastor is a "champion borrower," Pastor Marty said. A good question to ask about any person is "What can I learn from her?"
But most importantly, excellence involves continually attempting to adopt more of who Jesus is, Pastor Marty said. Instead of having faith "in" Jesus, have the faith "of" Jesus. "Think of how different our world would be," he said.