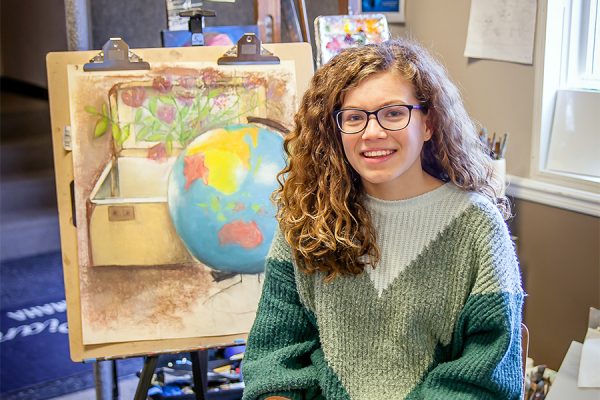 Editor's note: Martha Barnds created a stippling of the north side of St. Paul. A notecard-sized reproduction is available at the Info Center through December.
St. Paul has been my church home since we moved here from Pennsylvania. As a child, I spent most of the church service drawing. At the end of worship, I would give my artwork to someone sitting around me. One of my preschool teachers at St. Paul told my mom one day that they finally had to put a limit on how many pieces of paper we could use in art because, although my creativity had no limits, the church's paper budget did.
In first grade, I began taking art lessons with Mrs. B. This year marks my ninth year with her. In class, we learn a variety of techniques and use many different mediums. My favorite so far might be stippling, which is when you create an image using dots — many dots. It takes a lot of time and patience to complete a project. You may spend hours sketching and placing dots, only to realize that something is off and you have to start over. It is only when you finish placing the dots that the whole picture is complete.
I realize faith is a lot like a stippled piece of artwork. The first step is to sketch out the picture. It's like the foundation of your faith. My family is the foundation of my faith. It began with my baptism by my grandfather. It continued with regular church attendance, Sunday school, choir, First Communion, and confirmation. Next, you begin to form the picture by placing dots. These are the experiences and relationships that influence our daily lives and the practice of our faith. These faith points are like going to Camp Shalom, taking part in mission trips, retreats, and small groups in confirmation. Most of the dots come from everyday life when your faith is tested or put into action. Sometimes we make mistakes in life, like in art. Our faith teaches us that nothing can separate us from God's love and through grace, we are forgiven. It is never too late to start over or take our faith picture in a different direction.
In stippling, you slowly begin to see your picture take shape. Now that I have finished confirmation, I can look back and see how my faith is being formed and will continue to shape itself into one big picture of faith.
— Martha Barnds, 9th grader