7
Teaching pastor: Peter Pettit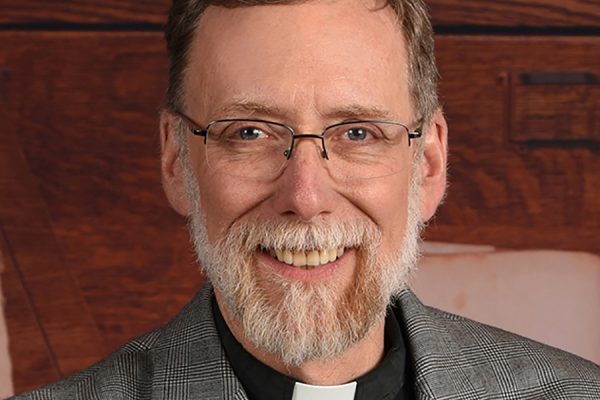 Editor's note: A congregational meeting will be held on Sunday, April 7, 10:10 a.m. in the Sanctuary. The purpose of this short meeting will be to call Peter Pettit as teaching pastor and Hayden Kvamme (KWAM-ee) as resident pastor at St. Paul. As teaching pastor, Peter Pettit would oversee learning at St. Paul, including preschool, children, youth, and adult learning. He also would teach and preach.
Watch for a Q & A with Hayden Kvamme, coming soon. Today, learn more about Peter Pettit:
Q: Tell us a little bit about your life – work, family, interests
A: My life story actually begins with my wife. On June 13, just two weeks into my anticipated call with you at St. Paul, I will have been married for two-thirds of my life. Everything before my marriage has come into focus through Lynn and everything since then has been graced and shaped by her. I could not be who I am without her. She's a stained-glass artist with a passion for justice and a love of children, which has made her a consummate school and community volunteer.
We love to travel and play games and do crossword puzzles and tackle the occasional DIY project and hang with our two grown daughters and their families. Jenn's in MN with Geoff and Alex (12) and Andrew (10); she's a crackerjack event planner and cake decorator and Geoff is a financial planning executive and golf buddy. Sarah's in WV with Shawn and is step-mom to Lauren (27). They met when he was her manager in a restaurant; now he's CEO of a small restaurant chain and an expert wood-worker; she's an artist, athlete, theatre designer, poet, and experienced food service manager.
I've played golf since I was 4. I read anything in print. We have lived in Pennsylvania, California (southern!), and Jerusalem, and have been privileged to travel a lot in Europe for meetings. Fitness is a focus, but it always seems like a struggle to give it the time it deserves.
I live in the blessed and creative tension between two biblical perspectives:
Philippians 4:13 – I can do all things through Christ who strengthens me.
Exodus 14:13 – Only be still, and see the Lord's mighty act that will be for you today.
Q: What intrigues you about St. Paul?
St. Paul is, as I said over and over when I visited, "thoroughly uncommon." Pastor Marty said much the same in his profile of a day in the life of the congregation for the annual report this year. A congregation that has the vision, the commitment, and the capacity to search for a Teaching Pastor is what first caught my attention. Then I saw the generosity and savvy of the pastoral residency program, and I started to see a pattern. The 22% of the annual budget that goes beyond the property line fits with that pattern. And then the next surprise: it's all done with a keen focus on knowing one another well, individually, personally, as a community.
The uncommon pattern is the embrace of mission that gives the church its character in the community, in the world. The uncommon foundation is the radical hospitality that greets every person as a welcome guest in God's house and gifted for God's world, and that pays attention to each one in particular. The uncommon experience is a congregation that brings joy to its members as it makes a difference in the world. When I visited, I noticed something: every single person I met, when mentioning St. Paul, smiled. I'm intrigued.
Q: What are you looking forward to?
Lynn and I together are looking forward to investing ourselves in a community of faith that is mission-focused, confessionally clear, and interpersonally healthy, and to being embraced by it. Having lived many places, we look forward to learning and exploring a new region, to living on the Mississippi River on the edge of the Great Plains. We look forward to being within a day's drive of both our children and their families.
I look forward to the challenge of serving in the development of a robust, compelling, dynamic, and multifaceted learning program for a Lutheran congregation in the post-Christendom era. I look forward to serving in a team ministry setting with faith-filled colleagues who are commitment to excellence. I look forward to being a congregational pastor with more wisdom and perspective than I had in my first, frenetic call 30 years ago, yielding a better personal balance and a more effective ministry. I look forward to the daily excitement of middle-schoolers and their families as the world opens up to them and in them. I look forward to the privilege of being part of the lifelong learning and pivotal life moments of the people of St. Paul.
Q: How did you become a pastor?
Does the story begin with God breathing me into life? With a German Lutheran family committed to church every Sunday? With being the go-to acolyte when anyone couldn't be there? With the serendipity to come of age when the church wanted "youth" in all its significant decision-making venues? Does it begin with a fascination with life's biggest questions? With the late-60s anxiety of "selling out to The Man?" With falling in love with a woman of deep spirituality and quiet wisdom, bearing the image of a God I had not yet known but somehow sought and cherished?
It began with all of these – and more. They led me to the Philadelphia Lutheran Seminary, where I became enthralled with biblical languages, biblical interpretation, and a church seeking always to be reforming. Internship and a year of teaching after seminary, then graduate school in Bible and Early Judaism. A powerful encounter with a Jewish advanced studies institute in Jerusalem and a stimulating interfaith seminary program added to the mix the church's relationship with God's people in Torah. First call, the realities of parish life, and the continuing draw of teaching and interfaith engagement. Twenty years with twenty-year-old college students, regular collaboration with Jewish scholars around the world, and a local interfaith community committed to staying engaged through thick and thin.
And now St. Paul – the next chapter in my becoming a pastor.