The Jack Project
Alex Johnson had to think just a little bit about what he would do with $100 he received at school.
His mom, Katy, had given clothes to Ms. B's Boutique, an effort at Hayes Elementary School in Davenport to provide for kids whose families don't have much money. Teacher Ashley Beyhl started the boutique in 2011.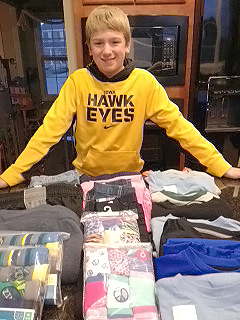 So Alex decided that he would go shopping with his $100 to purchase items for the store. The donation came at a good time – the spring shopping day for students is April 24.
"It made me feel really good because I was giving some clothes to some people who really needed them," said Alex, 12.
Where did that $100 come from?
That's where Jack Lindaman comes in.
Until his very last day, Jack's biggest concern was that everyone was happy.
Jack was six years old, a first-grader, when he died in 2010 of spinal muscular atrophy. It's a genetic disease with no cure. His body deteriorated – but his mind was just like any other kid's.
"I miss talking to him. I miss hugging him," said his mom, Tracy. "He was never a burden."
It was tough for Jack to go to school, so his mom homeschooled him. They would make visits to Alan Shepard Elementary School every once in a while, and video chat too.
This year, Jack would have been in sixth grade. It's the last year of elementary school in the North Scott School District, so the Lindaman family wanted to do something special for Jack's class.
"My husband I talked about a few different things," Tracy said. "We tried to think of something Jack would like. We decided we wanted to touch as many people as we could."
With the help of the school's principal, they decided to give each student in Jack's class $100 to do something nice, to build something, to take care of something that needed taken care of.
They call it The Jack Project.
Students got right to work making plans for their $100. Teachers have pitched in in a big way to help. Parents have too.
One girl gave away flowers at the local grocery store.
One student gave the money to the orphanage he was adopted from in Africa.
A group of students pooled their money to create a Frisbee golf course.
"They've put the money to use in ways we never would have thought of," Tracy said.
For the Johnson family, the $100 has provided an opportunity to talk about giving to others.
"For Alex to see the generosity of the Lindamans, that is a lifelong lesson," Alex's mom, Katy, said. Alex also got the chance to go to Ms. B's Boutique and meet the teacher who founded it. "And for him to hear that some kids don't have clothes to wear, that has really opened his eyes."