'There is a family overseas now for this church'
They are almost home.
A refugee family – who has spent months, but more likely years, waiting through a strenuous process to be approved for resettlement – will soon arrive in the United States.
Last week, 70 St. Paul people came to a training session to learn more about the responsibilities of helping this family adjust and grow to independence with a new life in the United States.
It remains unknown from where they will come, what language they speak, what persecution they've endured. But two things are true: "There is a family overseas for this church," said Amy Rowell, director of World Relief Moline.
"Time and time again, when refugees are partnered with a church, they do much better," said Beth Johnson, volunteer coordinator.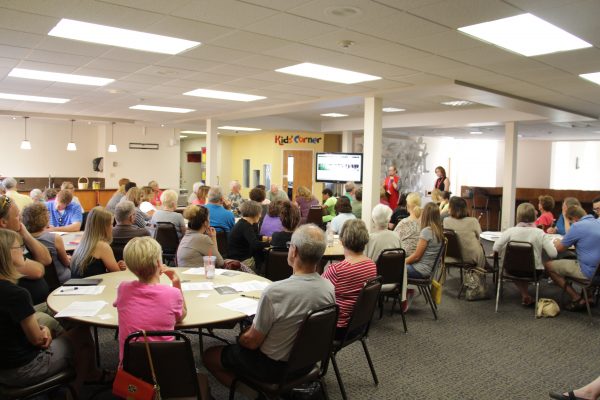 World Relief is one of 10 agencies nationwide who partner with the federal government to help resettle refugee families. Amy and Beth guided St. Paul people through information that will help guide efforts to support a family in the coming weeks.
Refugees do not have a choice about leaving their home, Amy said. They have to flee because of persecution, for "if they stay, they will probably die." Resettlement is the third and final option, and families wait in refugee camps for anywhere from 18 months to 25 years to be approved.
Right now, the world is experiencing the largest refugee crisis in history. Of the tens of millions of people who are displaced, the United States will accept 85,000 this year.
In the Quad Cities, 70-75 percent of the recent families settled come from Burma. Iraq, Cuba, Somalia, Eritrea, Ecuador, Sudan, and the Congo also are represented.
People who resettle often go through four stages of adjustment, Amy said. The first is happiness that they have food, a place to live. The second is hostility, as they become tired of learning new ways of life, can sink into depression, and experience fear. Third, they find humor, where they can relax and learn to laugh again. And finally, they accept that this is their new home.
Challenges will happen during the months that St. Paul people support the family, Beth said. For example, for some cultures, the concept of time is different than the concept in the United States. That can result in missed appointments. Volunteers must be flexible but firm if the family asks them to do additional tasks that the volunteer does not have time to complete. "It's important to remember to be patient with them," she said.
Refugees sometimes have a form of post-traumatic stress disorder. This can manifest in several ways. And while it may be easier to complete a task for a refugee, it is better, but harder, to teach them how to complete it on their own.
There is much joy in building relationships with refugees, she said. Friendships form. New understandings of different cultures emerge.
St. Paul people have already collected a household full of items for the family. State and federal financial resources are available until the adults are able to secure a job (as quickly as possible, with the help of World Relief). Groceries are provided until food stamps begin. Children are enrolled in school, and adults in English-as-a-second-language courses. Medical appointments are scheduled, and a slew of paperwork is completed.
The team from St. Paul will be working alongside World Relief staff to help make it all happen.
"This is about being the hands and feet of Christ in a very practical way," Beth said.