Meredith Bruster may not know exactly what she'll be packing in her suitcase next month, when she leaves for a year away with the ELCA's Young Adults in Global Mission.
It's likely she will be living in southern Africa, where she will of course need all of the usual items one needs when far from home. But there are other things that will be going with her as well.
"I know the values, spirit, and faith I'll be taking with me," said Meredith, who recently completed her studies at Luther College in Decorah, Iowa. "I know I want to enter the space with an open heart. I hope to be a part of the community. I want to give as the community needs me to give."
Meredith applied to be a part of YAGM earlier this year. The journey, she said, was a fruitful one as she found that the values of YAGM – of justice, accompaniment, and walking alongside others – are very similar to her own.
It also gave her the opportunity to realize that identifying as a Lutheran Christian gives her a sense of home, after a time of questioning.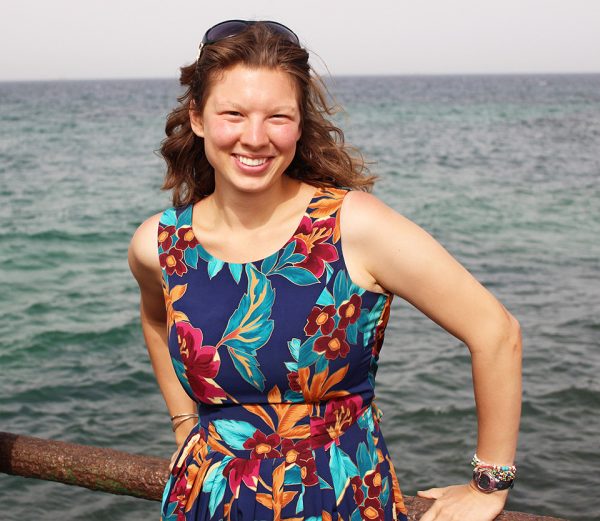 About Young Adults in Global Mission
YAGM engages young adults ages 21-29 in a year-long journey in international service. They share in the journeys of companion churches and organizations in one of nine countries around the world.
The idea is to become the hands and feet of Jesus in the world, providing critical support to ministries and projects in under-resourced communities. It also invites volunteers into a journey of self-reflection, providing space to consider their sense of identity, God's work in the world, and their place within it all.
Young adults serve in the spirit of accompaniment, walking alongside global companions in a manner that practices mutuality, interdependence, and solidarity. Areas of service include, but are not limited to, health and development, congregational ministry, human rights, education, homelessness, addiction recovery, women's issues and children and youth. All site placements provide opportunities for young adults to confront issues of wealth and poverty, racial privilege, economic disparity and globalization, all through the lens of faith.
Current YAGM country programs include: Argentina/Uruguay, Cambodia, Central Europe (Hungary), Jerusalem/West Bank, Madagascar, Mexico, Rwanda, Senegal, Southern Africa and United Kingdom.
About YAGM in Southern Africa
Meredith will be serving in the region of Southern Africa.
While the partner denomination is located primarily in South Africa, it also has parishes and ministries in Botswana, Lesotho, and Swaziland. Participants serve in diverse communities (both racially and socio-economically), and must have a commitment to simple living, an ability to learn basic communication skills in one of the languages of the region, and a genuine openness to change and desire for personal growth and development.
Service engagement at placement sites may include any of the following areas, either alone or in combination:
Children and youth ministries in congregations and/or community organizations
Refugee services
After-school programs, including tutoring, arts, music and recreation/sports
Advocacy, development work and training programs
HIV and AIDS and the response of Christian communities
Public health/health care
Agriculture
Creative arts, crafts and music
Care for those with special needs, vulnerable orphans and children
Assistance with administration, computers
Parish ministry
Drawn to Africa
This will not be the first time Meredith, 22, will spend an extended period living in Africa. She also studied in Senegal, in west Africa. She speaks French, a common language in Africa.
The St. Paul Endowment Committee recently approved $3,000 to support Meredith's time away.
Noting this is a good time in her life for her to be a part of YAGM, she also is looking forward to how her time in southern Africa will shape her, professionally and faithfully.
"I hope to be a part of work that builds people up, that offers encouragement and support," she said.