4
Wrong number, right message
Dennis Williams, of Tallahassee, Florida, received a pretty exciting text message a few weeks ago. It read: "We're at the hospital. Having a baby today!" The only problem was—he'd never met the person who included him in this announcement sent to a large group of family & friends. As it turns out, a family member who was excited about the birth of a baby boy accidentally texted this wonderful news to a wrong number.
Mr. Williams replied to the sender, celebrating with the family but letting them know he likely was not the intended recipient of their joyful message. Yet in the midst of such excitement, the response went unheeded. Over the next few hours, he received more updates and eventually a picture of newborn Cason Knox—the newest addition to a family that Dennis had never met.
Most of us might've just decided to simply ignore such random messages—clearly this was all a big misunderstanding. But Dennis had a better plan. He and his brother Deorick showed up at the hospital later that evening, tracking down this family they had grown to love over the last several hours. They took a picture together to commemorate this new friendship, personally congratulated the new parents, and even brought gifts for the baby.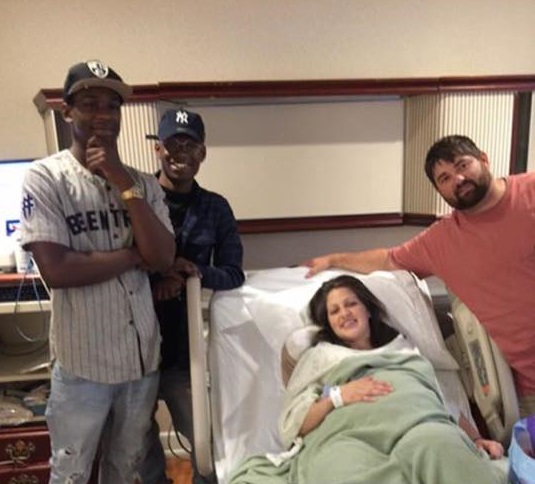 I don't know anything about Dennis Williams' sense of faith, but it seems to me he has a pretty great understanding of what it means to love others. Whenever Jesus speaks about loving one another, he never offers many specifics. He doesn't stipulate any particular circumstances of when or where we should care for others. And there aren't any details about how long one should know a person before they are required to love him or her.
For better or for worse, Jesus' instructions were fairly simple and straight-forward. Wherever you are, whoever you're with, whatever you may be doing: love one another. Whenever the opportunity presents itself—whether it's among the closest of friends or in the midst of a group text message with a bunch of strangers—loving, caring, encouraging, and supporting others can and should be a pretty basic tenet of our Christian lives.
Perhaps there are times where we let our love toward others get tangled up in certain prerequisites. As though we're more than willing to care for others… as long as it fits into our own timetable or the other person fits our clear definition of a "neighbor."
But if Dennis Williams shows us anything, it's that love has no need to be limited to certain circles or particular times. Love others, Jesus says. What more do you need to know?
– Katy Warren, associate pastor