A day in the seminary life
The sun shines through the brightly colored stained glass windows in the chapel at Wartburg Theological Seminary in Dubuque. A pipe organ rises to the ceiling, and rich brown brick creates a warm space.
Every weekday at 9:30 a.m., the students, faculty, and staff gather for chapel. This worship time centers the day, and gives students an opportunity to plan and preach at worship.
They sing hymns and read Scripture. The prayers of the people are beautiful words of hope for a world filled with brokenness.
As the prayers draw to a close, those gathered are given the chance to pray for those they know – and a soft murmur of names moves through the room.
After chapel, the group moves into the Refectory, a gathering space just a few steps away. This is the time for announcements about the school's city rec league basketball team, an upcoming film night, and introduction of visitors. There are smiles and cheers and shout-outs from the crowd.
"We move from worship into community," said Erik Preston, who works at the school and whose wife is a student. "It's the cycle of life here."
Community runs deep at Wartburg. History does, too. The school's roots go back to the missionary efforts of Wilhelm Loehe in Neuendettelsau, Bavaria. Pastors sent out from Neuendettelsau founded an educational institution in Saginaw, Michigan in 1852.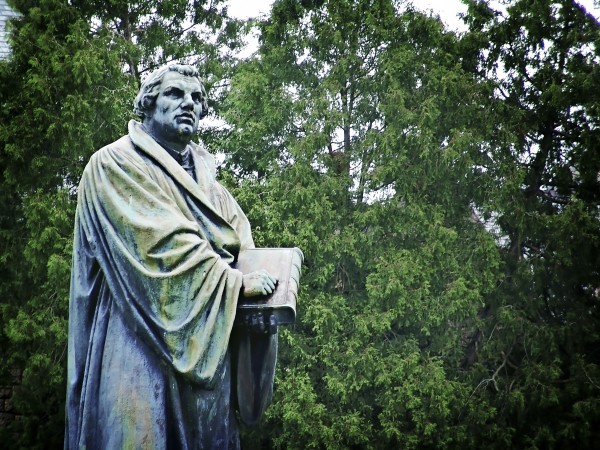 The following year the school moved to Dubuque, and in 1854, seminary education began.
The campus's trademark tower, built in 1916, was patterned off the Wartburg Castle in Germany. The Martin Luther statue (sometimes decorated to celebrate holidays), was erected in 1921.
The school has approximately 180 students. The average age is 37 years old. Many students are married with kids; some are online learners, taking courses online and in on-campus intensives a few times a year. Tuition and fees are approximately $16,000 a year.
Just as with the other seminaries in the Evangelical Lutheran Church in America (ELCA), a deep sense of community and history does not mean the school does not face modern challenges.
The college's strategic plan lays out goals to grow its endowment, keep student debt reasonable, enroll students with strong personal and academic qualities, and diversify its offerings for all who come to serve the church (whether a pastor or a lay person).
A $22 million fundraising campaign is underway to help support these and other goals at Wartburg.
Meanwhile, the number of students graduating from all seminaries this year will fill just 60 percent of the available openings in the ELCA, said Pastor Karla Wildberger, director for admissions.
"The church is in need of leaders – leaders who are not afraid, leaders who are ready to serve," she said over lunch with a group who came to tour campus recently. "If we know someone who would make a good leader in the church, we have the responsibility to say, 'Have you thought about going to seminary?'"
Roger Fears never would have guessed he would go to seminary. He worked in construction, just like his father and grandfather. He and his wife have two kids.
But after a long series of events, Roger finds himself in his first year of seminary. His eyes beam when he talks about his future, even though he still struggles a bit to figure out how it will all fit together.
"I was told before I came here by my pastor that when you're at seminary, you'll make friends that you'll have for the rest of your life," he said. "I'm starting to see what he meant.
The kinds of questions we wrestle with inside and outside of class are just so deep that they really force you to pull together as a group, to form this cohesion. It's like being in a family."