1
A love of film, for the generations
Little Jimmy Siokos walked into a movie theater with his dad when he was 5 years old. The year was 1977 and they were there to see the first Star Wars movie.
Today, 38 years later, the countdown board in Mr. Siokos' classroom at Sudlow Intermediate School in Davenport says it's one day until he will walk into a movie theater again – this time with longtime friends – to see a Star Wars movie.
Yes, Jimmy is a huge Star Wars fan. Yes, his classroom walls are plastered with Star Wars posters, photos, and memorabilia – including an Iowa license plate that reads Han Solo. Yes, he has every single one of the Star Wars figures he played with as a child in a display case – including the Han Solo that disappeared into a neighbor's bushes for two years.
No, Jimmy will not be at school on Friday – the release date for Star Wars: The Force Awakens.
"Star Wars is a classic hero's journey," he said. "It feels like they are your friends."
One of the posters in Jimmy's classrooms is of him portraying Han Solo in a fan film.
Early next year, he will premier the second of a three-film series called The Pretenders. The cast include his family and friends. It is set to be on screen at the Putnam Museum.
***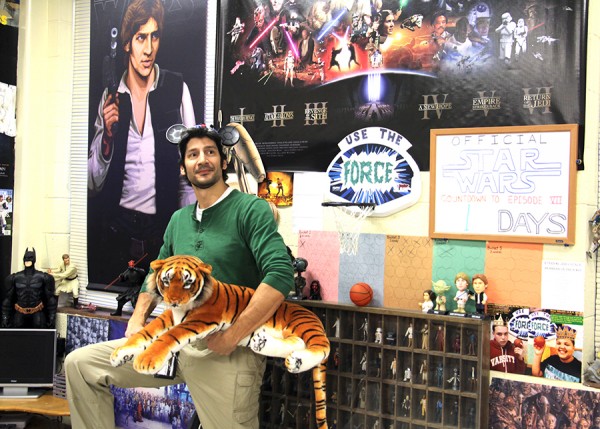 From age 5-11, the first three Star Wars movies played in theaters. Jimmy was just old enough to understand the concept, and young enough to play with the Star Wars toys.
"I was the absolute perfect age," he said.
As he got into college, he and his friends at a factory job would pass the time by pretend casting themselves in movies. Then he and his friends made a Star Wars movie. Jimmy played Han Solo. This all led to a representative from the toy company FAO Schwarz asking Jimmy to come to Europe and make appearances as Han Solo.
"It just kind of snowballed from there," he said. Appearances in Chicago, California, Las Vegas. The making of a fan film called Blackstar Warrior.
***
Now, Jimmy is preparing to release the second film in his own series, The Pretenders.
The films cast his kids, wife Sara, and friends. They are family superhero flicks. The Cage of Multron was released in April. Dusty Diamonds will premier after the first of the year, at the Putnam Museum.

***
Last week, Jimmy took his two older children, Ella and Noah, to a friend's home – a home with a movie theater. His kiddos are 5 and 6 – the same age that Jimmy was when his dad took him to see that first Star Wars.
Jimmy hasn't talked much about Star Wars with them, he said, because he wanted them to get the full effect of not knowing how it and the rest of the series turns out.
Together, they watched the original movie.
And once again, Jimmy got to see Star Wars through the eyes of a child.