2
Building community, through policing
Andrew Harris' first job as a police officer was in the small town of Denison, Iowa. A number of people who call Denison home speak Spanish, so the 22-year-old brushed up on his Spanish skills and got to work getting to know the residents of the community.
It was there he really learned how important a role building relationships was in his chosen career.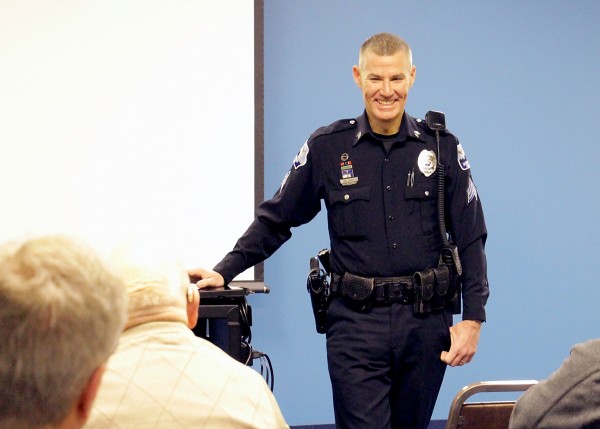 "A lot of what I do here in Davenport, I definitely got a good start there," said Andrew, who is now a sergeant with the Davenport Police Department and a member at St. Paul. "The big push now is community policing. We have to work together with the citizens, work together with the other stakeholders, such as churches and schools, to make our community a better and safer place to live and work in."
Andrew, a graduate of the University of Northern Iowa who also served in the Marine Corps Reserves, recently finished a time serving with the department's NETS unit. NETS stands for Neighborhoods Energized to Succeed. Andrew spoke last week at Lutheran Men in Mission, a St. Paul crew that meets regularly for breakfast, fellowship, service, and discussion.
The NETS unit focuses its efforts in a handful of neighborhoods in Davenport, including the 14th and Gaines area, Goose Creek Heights, and downtown Davenport, among others.
One of the efforts of the NETS program is called Weed and Seed – weeding out the not-so-good, seeding the good. Monthly meetings give neighborhood stakeholders a chance to connect and talk about issues in the area.
Andrew's very first neighborhood meeting was at an organization called the Lydia House – a nonprofit that offers an afterschool program and a network of temporary care for children of families in crisis.
The conversation at the meetings could be about small things like overgrown grass at an abandoned house, shoes on top of power lines that look awful, or windows that needed to boarded up, Andrew said. But it's those small things that add up over time, that if left neglected, add up over time to create bigger problems.
Lydia House also holds a Friday night dinner that anyone is welcome to attend.
"They not only work in the neighborhood, they are the neighborhood," Andrew said of the people of Lydia House, including director Joyce Klopp.
Lydia House is just one example of people who are working to make neighborhoods strong – United Neighbors and Project Renewal are two other examples, he said. The police department also has police officers in the city's high schools, and helps with a citywide effort to ensure that rental properties are safe places to live.
"Our number one population is our kids, that's where we know we can make the most difference," Andrew said.
In addition to building relationships, Andrew's job does involve intervening in crisis situations as well.
Andrew, along with three colleagues, were recently awarded the American Legion Law Enforcement Officer Award. The officers worked to find a person who was armed and suicidal, and when they did, they were able to successfully take the person to the hospital for psychiatric evaluation and assistance.
"That is an epidemic in our society right now – the number of suicides and depression we're seeing," Andrew said. The police department's officers undergo training in working with people who have mental health problems, he added, and are stepping up efforts to coordinate with other agencies to try and provide the best solutions possible.
Faith is very important for many of the police officers in Davenport, he said. It keeps Andrew grounded in very difficult circumstances.
"The police department doesn't get called to a person's house when their daughter gets straight As, or when someone got a promotion at a job. We see people in crisis at their very worst part. Unfortunately, we're the bearer of bad news sometimes, knocking at that mother's door at 3 o'clock in the morning, and telling them their daughter was in a bad car accident and they need to get to the hospital, knowing that child is going to die, or going to find a child who was sexually assaulted…and you just walk out and ask why."
"But there's also a lot of good things going on in the community," he said, specifically mentioning the work of the St. Paul Neighborhood Schools Partnership at Madison Elementary and J.B. Young K-8. "It's good to be involved with a great church."