The guy in front of me at Brady Street Stadium was dressed in full Davenport Central gear with a blue and red cap on his head and a blue and red sweatshirt keeping the late-evening chill at bay. If the concession stand would have been selling those big foam No. 1 hands, they would have had a sale from him.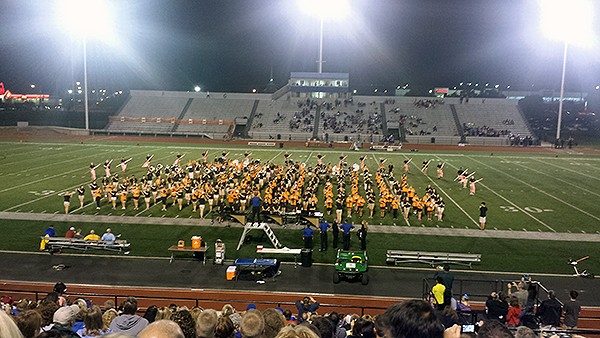 It was Friday night, the first football game and marching band performance of the year. The crowd was equally divided between marching band fans and football fans. Why was I there? Let's just say I should have had an "I'm here for the band" T-shirt.
Marching bands give me goose bumps and bring tears to my eyes. On Friday night, the tears came easily because my oldest kiddo was in the marching band for his very first time.
But the guy in front of me was having none of those band/football divisions. He leaped to his feet to oh-so dramatically make the first-down motion when the Central football team crossed that magical line on the field. He was up on his feet again when the marching band took the field.
All the while, his booming voice yelled encouragement to those playing — whether they held a French horn or a football.
Last week, St. Paul launched a new website. Of all of the words on the site, I consider a paragraph on the About page the most important:
"At St. Paul, we believe that living in a community with differences is the better way. We trust the Greek meaning of Acts 10:34, that God 'makes no distinction between faces.' This means that all of the dividing up of people into categories — an exercise with which we are all familiar — cannot impress God. We live to embrace and delight in the variety of all people and their experiences. Living with diversity is a mark of discipleship here. It's the way Jesus intended it. It's one true mark of love."
Embrace and delight.
The guy at the football game – I never asked him his name. But I will never forget how he embraced and delighted in every single one of those kids on the field that night – no matter why they were there or how they were doing. While we were too far from the field to see any of the actual faces, he "made no distinction" between the band and the football uniforms on the field.
Ann McGlynn, director of communications