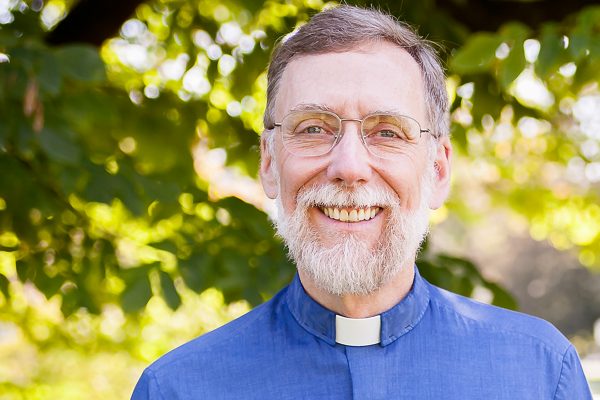 At a recent medical appointment, the tech covered the silence while prepping a procedure by asking if I had big plans for the day. 
"Just headed for work."
"Oh; where do you work?"
"I'm one of the pastors at St. Paul Lutheran in Davenport."
<long pause> … "Really? I'm a member of St. Paul."
A quick exchange about my relatively recent arrival, the intrusion of COVID, worship patterns and habits, etc., and we relieved the momentary embarrassment that neither of us had recognized the other, or even our names. And, after all, St. Paul is a large congregation!
That's one of the reasons that this past week's New Member Sunday was so welcome. We wear name tags, presumably for the new members. But I wasn't the only one who has been around a while and still commented on how helpful it is. To be able to learn a name, and especially to refresh one we've known before, without having to ask about it relieves a large measure of anxiety. And knowing one another by name is no small thing.
Our ancestors in the faith have told us in the psalms, the prophetic books, and the gospels that God knows us – and every star, too! – by name. Knowing God's name is a vital part of living in the faith relationship that God gives. That's why naming has long been connected with the sacrament of baptism, when God creates that faith relationship.
Knowing and using one another's names is just as important in our relationships. Despite the fact that most of us would be amazed at how many people share our name (just try that Google search!), when someone uses my name, it conveys recognition, respect, attention, and a measure of caring that few other words can. I know that they have noticed me, individually, and that their conversation is crafted for me in that moment, not for someone else or for just anyone.
Of course, by now the elephant looms large in this space: none of us has the memory for names that we would like. Okay! That need not defeat us, but it can help shape how we succeed at growing more personal, name-rich connections within our community. A few ideas from my experience:
It means the world to me in the moment when someone greets me at church and says their name. No big deal; not even "I am …." Just smiles and fist-bumps or shakes hands or whatever and says their name. And it's so important that I say, quite simply, "Thank you!" Maybe I did know their name, but the response of "I know" sounds too much like it dismisses their generous gesture. Just, "thank you!"
I once learned that Americans are habitually helpful. Ask someone for help and you'll probably get it. So instead of confessing my embarrassed sin of forgetfulness and begging forgiveness along with someone's name, I've learned simply to ask, "Please help me with your name." Because forgetting is not a sin; interest in your name is a gift of attention; and the help we're seeking is not a big ask.
Caring enough to know someone's name is one of the ways we get to be like God. Like all the godly things we do, we never get it perfect – none of us does. But practice – and name tags – get us further toward the web of connectedness that we know our communities can be.