A camp of her own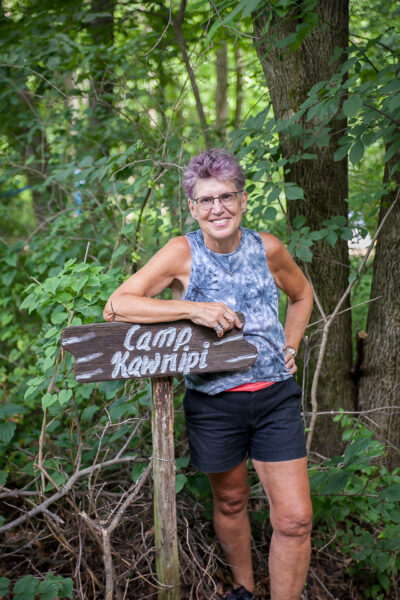 Off of Highway 61 outside of Blue Grass, down a curving gravel road, a brightly colored sign appears at the end of a driveway, welcoming visitors to Camp Kawnipi.
Turn onto the lane, and a field of wildflowers greets visitors. Gus the dog does the same – with his muddy and burr-filled self, signals that this is a dog who really loves to be outside. And then, Sherry O'Keefe emerges from her home. To know Sherry is to be immediately drawn to her spirit of exploration and learning – a spirit that comes through somehow with just her hello.
Camp Kawnipi is a long-time dream of hers, a dream that is coming to be when this time of pandemic gave Sherry the space to make it a reality. "I have a fervent belief in the power of the outdoors, and the healing that can happen in the outdoors," she said.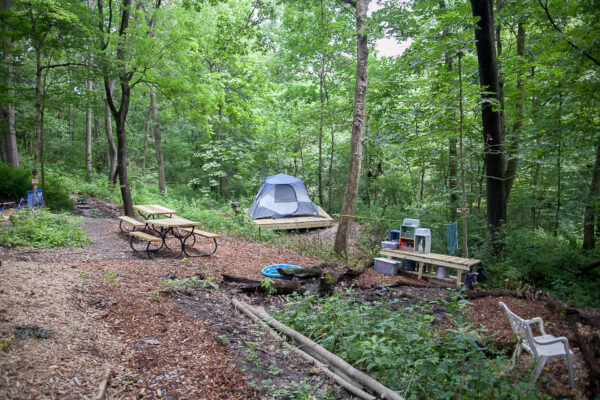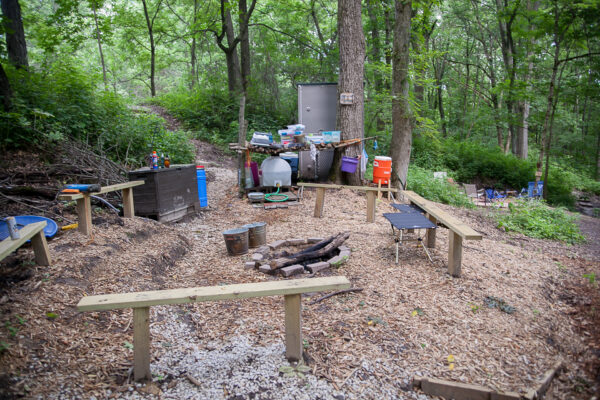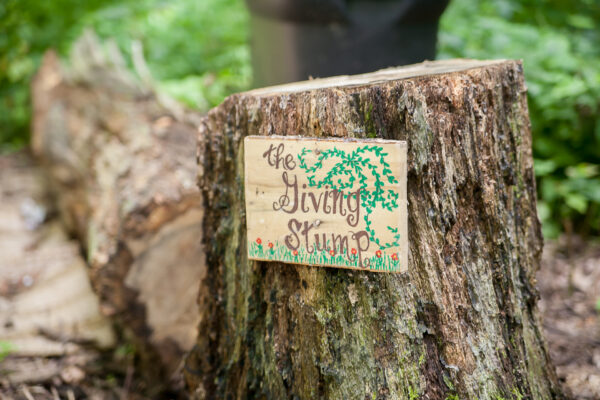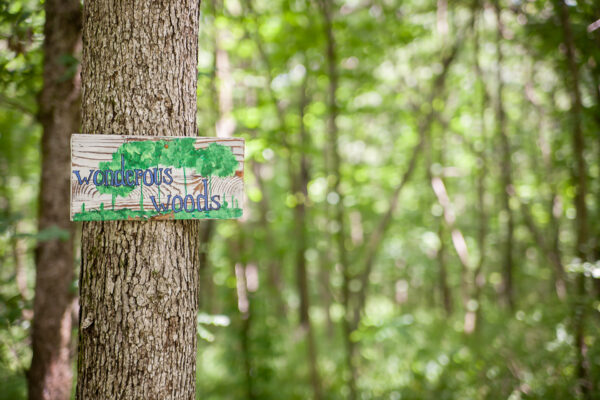 First, a little history.
Sherry grew up in a dysfunctional home. The youngest of her parents' children, she escaped much of what went on with her alcoholic father. Yet, the outdoors became her way of a complete escape from what went on at home. Specifically, her outdoor experience in Girl Scouts became an important part of her life. She first attended Camp Conestoga as a fourth-grader. As she got older, she worked at the camp.
"It was a place that allowed me to learn who and what I was," she said. "Camp gives kids the opportunity to make mistakes, make decisions, do crazy things in the context of reasonable safety. Learning to take risks is really important. It became the foundation of who I was."
More than 30 years ago, Sherry and her husband, Michael O'Keefe, purchased a 10-acre horse farm just off of Highway 61 in Blue Grass, Iowa. They were just starting their lives together. Michael started planting bare root maple seedlings where the horse pasture once was. He wanted to be able to see the trees from the couple's home. Meanwhile, Sherry decided she wanted a fire ring, so she built one in the same area Michael was planting the trees.
Sherry named the area Camp Kawnipi. It comes from the name of a favorite lake of hers in Ontario, Canada, from her times traveling up in the Boundary Waters Canoe Area. "We took kids rafting there – it is a big, beautiful, gorgeous lake." As a matter of fact, Sherry and a group of friends from days of working at Camp Conestoga, continue to venture to the Boundary Waters for a week of paddling, camping, and reading. This July, they gathered at Lake One.
"We make homemade tortilla chips and hang out on floaties that I bring," she said of her Camp Conestoga friends. Sherry's camp nickname is Moto, for Motormouth – anyone who knows Sherry will appreciate this nickname. Other friends include Salty and Tiki. On their trip this year, the book they read together was Lost in the Wild: Danger and Survival in the North Woods, by Cary Griffith, she said. It comes highly recommended.
Back to Camp Kawnipi.
After Sherry and Michael built the fire pit and planted trees, life with work and kids – a good life, Sherry said – put building the camp on hold. But this spring, when the pandemic hit, "I was home for a month or so, getting bored. I thought, 'Hey! I should get Camp Kawnipi going again!'" She went back to that fire circle that she built 30 years ago, and started working.
Now, by working, we really mean working – hauling rock and sand, digging trenches, clearing trails, chainsawing brush, installing a water source. Sherry made signs for different areas – her favorite is a sitting area named Inspiration Point. She brought in a specialized tent for an outhouse. Family helped her, too.
Camp Kawnipi now has a mud kitchen and pit for exploring, a patio, trails, a tent platform with a large tent, cots, and sleeping bags – all in the woods that the O'Keefes expanded out 30 years ago.
"It's a vision of love that has grown and grown and grown," Sherry said. "There's nothing that I would love more than to have people come out."
She means it. Really. Anyone can come and explore for a day or spend the night – for free. "You don't even have to see me!" Sherry says in her Sherry way.
A retired educator in the Rock Island schools, Sherry's most important mission is to give kids the opportunity to freely explore, take risks, make decisions, and learn about the world around them, she said. One of the sites that makes her the happiest is the mud kitchen, where kids can just come and play with mud – dig, smear, glop, roll around. She points to a nearby slope and indicates she has more work ahead of her to build Camp Kawnipi. "I hope to build a mud slide!"
Sherry leads her own group on Facebook, called Outdoor Kids and Families QC. There, she posts articles, resources, and inspirational quotes, centered on the joy and connection that can be found in time outdoors.
Interested in visiting Camp Kawnipi? Contact Sherry O'Keefe at 563-349-6617 or sherry.p.okeefe@gmail.com. Sherry is inviting anyone – adults and kids – to come and stay for a few hours, a day, or overnight – for free.