A refresh in the St. Paul kitchen
Two new skillets. Muffin pans. A toaster. Microwaves. Spatulas. A mixer.
From serving funeral luncheons and Lenten dinners to preparing food for the Salvation Army meal site (and countless other examples in between), extending hospitality to others is central to how we view St. Paul as a Christian community. This week, new items for the kitchen, the Library Commons serving area, and the office conference room and the kitchenette in the Church House are refreshing that spirit.
With funding from the Memorial Gifts Committee, a team of four people – Tammy Hermanson, Joyce Holland, Karen Miller, and Joanna Roland – inventoried the items the church had and then set out to update worn out and missing pieces that could use replacement.
"We wanted to make things as easy as possible for people who are working in the kitchen," said Karen, who is involved in several food-related ministries at St. Paul. For example, sometimes, people would bring things from home in order to make a meal happen, she said.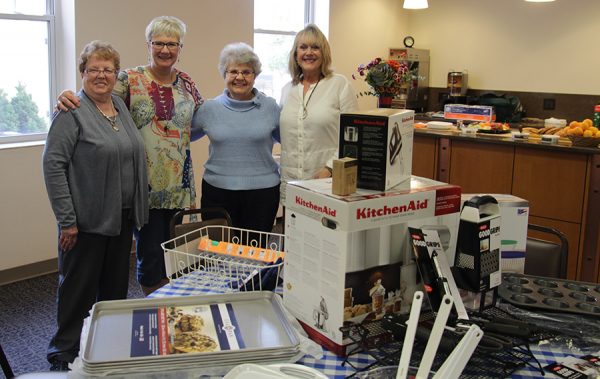 The idea started when Tammy encountered volunteers in the kitchen who were making a meal for the Salvation Army this summer. They were having trouble finding items needed to make the meal. After a few conversations and a careful look at what was in the kitchen and serving areas, it became clear that St. Paul's generous spirit of hospitality was outpacing the resources available for hosting events and activities centered around food, the team's request to the Memorial Gifts committee said.
They inventoried. They made a list and a budget. Then, after the nod from Memorial Gifts, they shopped sales, used coupons, and found the best deals in order to get the biggest benefit possible from the gift. One of the best finds? Tammy found an awesome toaster for less than $8.
"These items will be used by children, families, youth, adults – all sorts of people," Joanna said as she talked about how excited she is for the snack crew who makes healthy treats for dozens and dozens of kids who attend Vacation Bible School in June.