1
A years-long love of the Bible
Years ago, when Roger Hains was in the Air Force, he attended a small church with a Bible study led by the wife of the church's pastor. She asked if he would like to lead the study…and he decided to say yes. That first yes was the starting point of years of learning and teaching about the Bible – words that Roger knows can stand up to intense scrutiny and deep conversations, especially the difficult parts.
"We can rest assured that we have good stuff, reliable information" in the stories of the Bible, said Roger.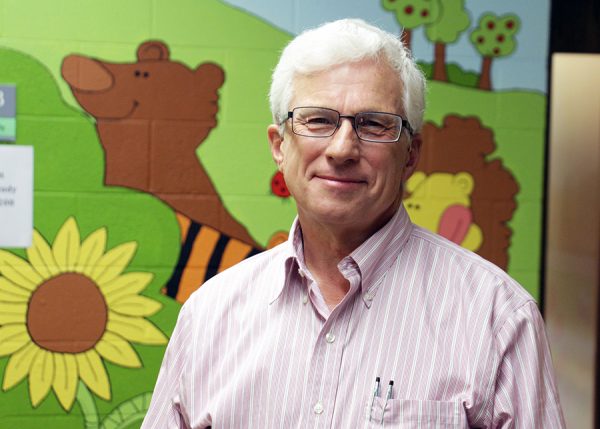 His journey of teaching Bible studies continues now at St. Paul – where he is leading the Sunday-morning Bible class through mid-October, 10:45-11:30 a.m. on the Upper Level of the Education Wing, Room 208. The study is based on a resource called Feasting on the Word – rooted in the lectionary (the readings assigned for eworship). Each week focuses on a different word. With Community and Treasures the first two weeks, the remaining weeks are:
Sept. 25: Advocacy
October 2: Encouragement
October 9: Proclaim
October 16: Prayer.
Now retired after 35 years in the tax department at Deere & Company, his own faith journey fuels his passion for teaching.
Roger was raised in a Christian home. In his 20s, however, his faith was superficial. He had no problem with Jesus, but didn't really seek to understand him, either. In his 30s, Roger started to see that because Jesus accepted the difficult stories of the Bible, he should, too. He started to dive into those stories.
Because of that, Roger values honest questions and responsiveness. He knows that there are some theological questions that may never be answered – such as whether people should be baptized as infants or adults. But he does find grounding in the Apostles Creed – and commonality with all Christians in who believe that creed, no matter their differences otherwise.
Roger really likes that the series is based on the lectionary, allowing for more conversation outside of the readings, hymns, and sermon of worship that Sunday.
"When we use the lectionary – we are worshiping with a lot of other people throughout the world," he said. "The church year is such a wonderful teaching tool."