Aboard a RAGBRAI bus
The old school bus is spray-painted black, with Hawkeye decals and a license plate telling the world its purpose now: to be the anchor for a team of people riding in RAGBRAI (the Register's Annual Great Bike Ride Across Iowa).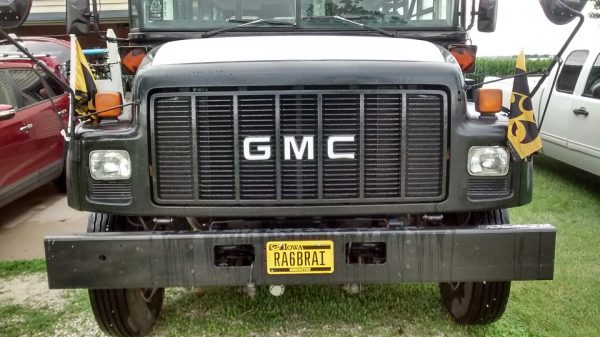 At the wheel is Phil Hart, his third year of driving the GMC across the state and back again, hauling people, bicycles, tents, and all sorts of gear from the Quad Cities to a spot along the Missouri River. This year, it was Orange City.
The team is all family and friends. His air-conditioning is two fans pointed toward the driver's seat.
The biggest joy? The adventure.
"Every town you go to, you don't know what you'll find," Phil said from his lawn chair at his team's campsite south of Clear Lake. "For example, we ended up tenting next to a private forest preserve, with free food and free music. You can't make this stuff up!"
The first RAGBRAI was in 1973. This year's race is the third-shortest (411.4 miles) and third-flatest (13,078 feet) in history. Because of its popularity, it is limited to 8,500 riders. In 44 years, RAGBRAI has passed through 780 Iowa towns, spent the night in 125 different towns and has been in all of Iowa's 99 counties.
Phil is the "front guy" for his team. He loads up everyone's gear and belongings in the morning and drives to the next town. He usually on the road between 8 and 9 a.m. When he arrives in the next town, he finds a camping spot – sometimes he knows where they will camp ahead of time, sometimes he doesn't. The best finds are the ones with showers, or free food and entertainment (he's third from the left in the photo below).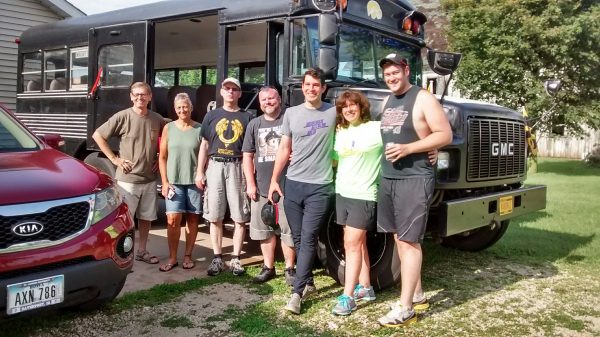 He then hoists a big Iowa flag on top of the bus so the team can easily find the bus. A funny string of texts keeps the camaraderie and information about team whereabouts and updates going throughout the day.
"It's a nice bonding experience," Phil said about his week away. "It's been gorgeous weather, a bit breezy, but good."
Tonight, the adventure will be in Cresco, the hometown of Nobel Peace Prize Laureate Norman Borlaug.