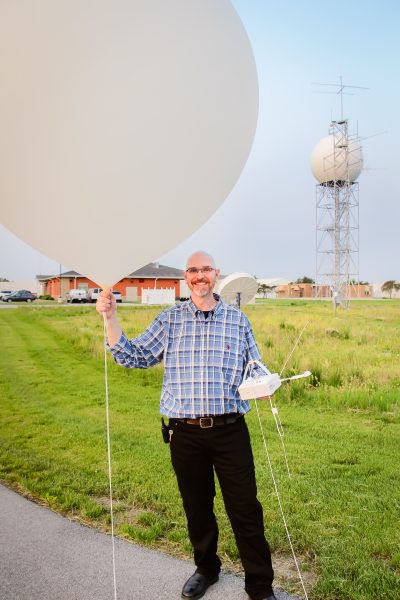 Early in the morning, at 5:45 a.m. when the sun is thinking about starting its day, Tom Philip heads out of his office to make a short trek to an oddly shaped, very tall garage. He carries an uninflated specialized balloon attached to a small box called a radiosonde.
No matter the weather, at 6 a.m. and 6 p.m. every single day, the meteorologists at the National Weather Service at the Davenport Municipal Airport enter the garage and inflate a balloon with hydrogen to about five feet wide. They open the overhead door, step outside, radio to the office that they are ready, and release the gigantic balloon into the sky.
It's gone from sight within a matter of seconds. Tom explains its purpose. The balloon and its radiosonde rise about 1,000 feet per minute, measuring pressure, temperature, and relative humidity along the way. The measurements are sent back to the National Weather Service, where a look at a computer screen shows data streaming in as the balloon goes up.
When released, the balloon can rise for more than two hours, to about 115,000 feet, where temperatures can be as cold as -130 degrees. It expands as it goes higher, and bursts when it gets to be about 20-25 feet round. A small parachute brings the box back to the ground.
A practice since the late 1930s, this twice-daily balloon launch in Davenport is part of a network of hundreds worldwide. The National Weather Service in the U.S. has 92 stations. While a balloon is on the more low-tech side of things, a step back inside of Tom's office shows that there is nothing low-tech about his work.
WGN, a great blizzard, and a lightning strike
At his desk, with an array of colorful computer screens behind him, Tom settled in and talked about how he became a meteorologist, and why he enjoys the work. He always liked weather growing up, especially thunderstorms. Growing up in a suburb of Chicago, he remembers watching Tom Skilling's WGN weather segments on the 9-o'clock news.
"He was the first TV weatherman to really show a lot of graphics to explain what was happening," Tom said.
While in grade school, Tom remembers shoveling feet of snow from his family's garage roof with his sister and grandpa so it wouldn't collapse. That was the blizzard of 1978-79. He can also remember one storm during his high school years that had a lightning strike hit a tree right in front of his house. "The tree had a burn scar going down the trunk towards a broken sprinkler system pipe. The loud crack of thunder from the lightning strike that close was amazing," he said.
In college, Tom realized that he could be a weather person for a career. "I took an intro to meteorology class and a severe & unusual weather class at the University of Illinois. It was after those classes, with my love of math and science, that I decided to major in meteorology," he said.
Tom transferred from the University of Illinois to Northern Illinois University, which has a well-regarded bachelor's degree in meteorology. He will celebrate his 25th anniversary with the National Weather Service this month. He first worked at a radar station in Marseilles, Illinois. When that closed, he moved to the Davenport office. A St. Paul member, Tom is married to Amy Philip, and they two children, Anna and Nicholas.
What is his favorite part of the job?
"Aside from those occasions we get positive feedback from customers who used our forecast and it helped them with their decision-making, I enjoy the variety in forecasting Midwest weather from season to season. I also enjoy getting out of the office occasionally, whether to meet with partners or just do the weather balloon observation."
What is the most challenging?
"Strong winter storm systems that include mixed precipitation types, from rain, freezing rain, sleet, and snow. Not only are you dealing with a system that could produce a lot of precipitation, but the 32-degree line may be meandering across the area, which could mean the difference between getting an inch of rain vs. about 12 inches of snow, and depending on the track of the system, some areas may not see anything at all."
High wind, hail, and freezing drizzle
The meteorologists at the National Weather Service in the Quad Cities are not immune to the effects of the weather, Tom notes. For example, high winds in 2003 took part of the roof of the weather service office.
The most interesting type of weather phenomenon, Tom believes, is hail. "Rain is rain, snow is snow, both relatively common. But, a severe thunderstorm that produces large hail, to me, is really awe-inspiring."
His least-favorite type of weather is freezing drizzle/rain.
"It is difficult to forecast, kids can't really play in it, and it could be very hazardous not only with travel but also with power outages which could last for a while," he said. Despite his love for his work, Tom does clearly know his professional limits. "I can forecast the weather. I can't predict the future."
Get involved
The general public can help meteorologists track weather a few different ways.
Storm Spotters: Spotters provide real-time ground-truth of local conditions such as hail size, wind speed, tornado development, and local damage to help warn the public. Even as new technology allows the National Weather Service to issue warnings with greater lead time, spotters will always serve as a critical link between radar indications of severe weather and what's happening on the ground. To learn how to become a spotter, visit www.weather.gov/dvn/spotters.
Weather-Ready Nation Ambassadors: The WRN Ambassador initiative is the connecting hub of federal, state, and local government agencies; emergency managers and city planners; researchers; the media; the insurance industry; nonprofit organizations; the private sector; and many others who are working together to address the impacts of extreme weather on daily life. To learn more, visit www.weather.gov/wrn/ambassadors.
Community Collaborative Rain, Hail, & Snow Network (CoCoRaHS): This is a network of volunteers who take daily measurements of precipitation in their back yards. They use high quality rain gauges and, in some places, hail pads to collect information. The information helps meteorologists better understand precipitation across the country. To learn more, visit www.cocorahs.org.
Meteorological Phenomena Identification, or mPING: Using the free mPING app, anyone with a cell phone can submit a weather observation anonymously. The data goes to a database and is then displayed on a map accessible to anyone. With mPING, officials can compare the public reports with radar echoes to make forecasting more accurate. To learn more, visit nssl.noaa.gov/projects/ping.