5
Behind the scenes: Filming worship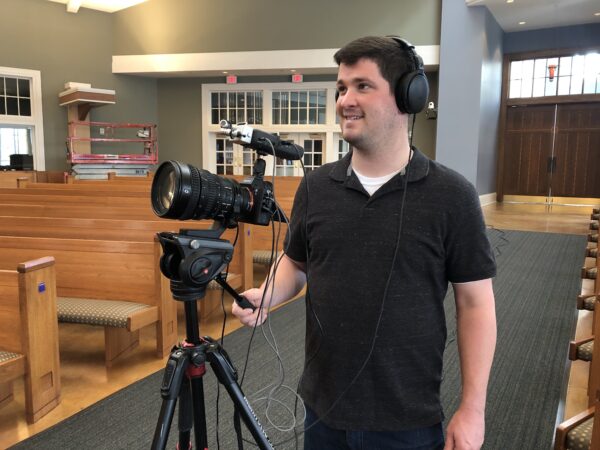 It's 8:30 a.m. on a Thursday morning, and worship is underway.
Chris Nelson takes his turn at the organ. Bill Campbell slides onto the piano bench. A pastor stands in the Sanctuary to deliver a sermon. Prayers are said, as is a children's message, too. It's all different though. Each segment is done separately. Cameras are rolling, lights enhance the natural lighting in the space. And the Sanctuary? It's empty — mostly.
Miles Thompson is behind the camera. A St. Paul member, he is also a videographer. For the first Sunday after St. Paul decided to suspend worship, staff put together a video in one day. As soon as the idea emerged about Miles creating the videos, it's been Miles at the camera ever since.
"I can't just sit here and just hang out," he said of the church he loves going to all online delivery for worship.
Each week, on Monday, Chris Nelson, organist and director of music ministries, sends out an order of worship and schedule for taping. One of the biggest differences, he said, is that St. Paul now has one worship service instead of four. "What are the important things for St. Paul and the worship that we do? How do we include all of that in one worship succinctly?" Chris said.
"We want to be mindful of what everyone offers on a Sunday morning. I think we've made a bona fide effort to keep connecting with our members. We're not really straying from who we are. Our online identity is not different than our in-person identity. I like that people have a closer view of what is happening."
"But I miss the connections with people," he said.
Taping usually takes 6-10 hours a week, Miles said. Editing/producing is anywhere from 15-20 hours. Holy Week was an exception to that, with two additional services and additional time spent on Easter morning worship. Miles is enjoying being a part of a team effort, he added. "I really like to brainstorm, find that creativity, and make something — together."
One favorite highlight from the past few weeks? A split screen on the Easter morning organ postlude. St. Paul got to see Chris Nelson's feet in action — with fancy socks included.
Growing up, Miles' mom was known as the person who took photos of everybody's kids — at sporting events, musical performances, all sorts of events. She had her own small company that made some money off of her work. As Miles and his sister, Mackenzie Nash, entered the professional world, they decided to give the photography/videography business a try together.
Miles, who uses Adobe's Premiere Pro to edit his work, learned the software by watching a lot of "YouTube University," he said. He taught himself lighting and composition, as well as incorporating drone footage to help make videos really soar.
While video recording worship for online purposes is something that St. Paul has never done, Chris believes "we've done our best. It's important for people to know that we don't throw this together willy-nilly each week. It's a process," he said. "I'm thankful for everyone who has participated in it and have added to the experience."