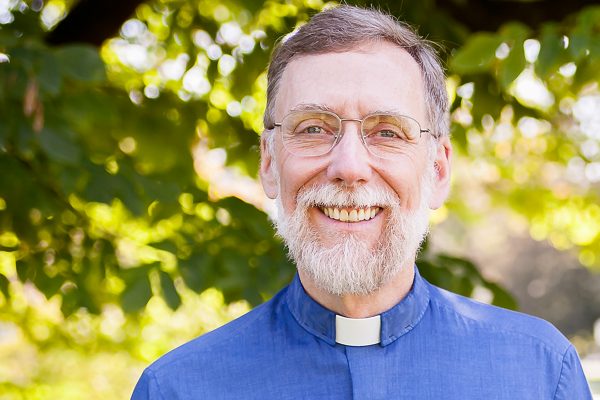 We've been doing a lot of improvising this week. After the derecho blew away most of the plans we had for Monday afternoon and Tuesday (at the very least!), we have been faced with challenges to innovate and improvise at nearly every turn.
I'm writing this on a pad of paper with a pencil and will drive it over to our enews team as a longhand, hard-copy manuscript that will have to be typed in to a word processor. The car runs so I can charge my cell phone, which is my primary Internet interface until wifi and power come back on. Coolers with ice stand in for fridges and freezers. I realize with surprised gratitude that our water heater, like our stove, is gas-fueled. It makes it easier to wash the dishes by hand.
Some of the improv will have more long-term effects. We'll probably enjoy more wood fires in the fireplace this winter. The big sycamore will need to be reshaped for its next era. Damaged gutters make new configurations more thinkable. The improv list goes on.
Reverend Dr. Samuel Wells of St.-Martin-in-the-Fields Anglican church in London talks of the Christian life as an improvisation. Glenn Paauw, in the book we will study this Fall in Heart Soul Mind, picks up on the theme. As in any good improv set, there are a basic scene, characters, and relationships that are givens. Paauw says this is what the Bible gives us. Then one actor or another makes an invitation with a gesture or spoken comment. Other actors can accept or reject the invitation, extending the story arc or redirecting it. The Bible shows God making many invitations, most of which God's people seem to reject.
Their own invitations, in turn, are mostly wrong-headed, veering away from God's vision. And then it happens: God doesn't reject; God "over-accepts," takes up the wrong-headed initiative and turns it into something worthwhile, valuable, even redemptive. The long story arc stays on track, and the story becomes a school for Christian improv.
I couldn't reject the derecho, but I can over-accept what it brought with some creative improv. I can't reject the legacy of my family's dysfunction, my church's faithless record, or my culture's dehumanizing patterns. I can seize the power of God's over-accepting redemption of my failures to try my best to over-accept those wrong-headed invitations that life tosses my way. With some creative improv and God on the stage with us, even those things can find redemption and carry us onward.