Lutheranism across culture
Pastor Paul Bailie is the pastor at Iglesia Luterana San Lucas in Texas. He grew up at St. Paul and will present here this Sunday, 10:45-11:30 a.m., in the Luther Loft. He will preach at the 8 and 9:20 a.m. services. His presentation will consider how being Lutheran is more than eating certain foods and singing particular songs. It is a grace-filled identity of faith that goes beyond culture.
FIVE YEARS AGO, Lety Solis saw something she really liked at Iglesia Luterana San Lucas. The congregation was embarking on new initiatives to better its work in the community of Eagle Pass and beyond. The pastor connected well with the kids of the congregation. And there was a feeling of openness, of listening to suggestions on how to be the church in the world.
So Lety and her two daughters, Yajaira and Erica, now ages 8 and 16, became members at the church. One of her favorite times of gathering is on Wednesday evenings.
"Parents and kids get together and we have Bible study," said Lety, who works as a care provider for senior citizens in the community. "We listen to a Bible story, talk about it, sing songs, and create. He (Pastor Paul Bailie) has construction paper, markers, and other art supplies out and we get to draw, let our imaginations fly and be creative."
Paul Bailie has been the pastor at San Lucas for five years. In addition to preaching and teaching at St. Paul on Oct. 16, he also will be in Chicago on his trip to the Midwest. The first stop will be to accept the Emerging Voice award from the Lutheran School of Theology at Chicago, his alma mater. The second will be to present at the Decolonize Lutheranism inaugural gathering. The movement seeks to give voice to all cultures within Lutheranism.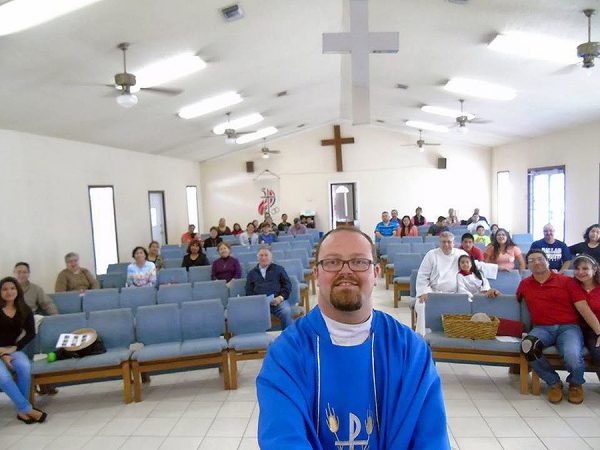 ***
San Lucas is a small Spanish-speaking congregation of the Evangelical Lutheran Church in America, located near the Mexican border in Eagle Pass, Texas. "Every Sunday we have worship at 11
a.m. Just in the last year or so, we have started to have a coffee pot and donuts out as people gather. The division of labor for readers and acolytes happens right before worship. We are OK with unwritten prayers. And the passing of the peace might be a bigger process than in other congregations." Paul said.
In addition to weekly worship, the church hosts a weeklong summertime day camp, multigenerational small groups, Bible study. It also participates in community activism. Two of the congregation's ministries are visible acts of compassion to the community.
Food pantry: In partnership with the South Texas Food Bank, San Lucas helps the community with hunger assistance. The food pantry at San Lucas is open Tuesdays from 9-11 a.m. It includes food from the regional food bank, donations from area stores, and produce from San Lucas' garden. "We help more than 100 families each month with food assistance," Paul said. "It's not meant to be a family's only food source – it's supplemental. We ask every client about whether they receive food stamps. If they don't receive food stamps, we help them sign up."
Water stations: In response to a high number of migrant deaths near the United States-Mexico border in past months, and in collaboration with the South Texas Human Rights Center, the congregation placed six water stations for migrants passing through the arid Texas backcountry of Maverick County. The 55-gallon blue plastic drums, labeled with the word "AGUA" on the exterior, contain gallon jugs of water that migrants can take with them as they walk through the extreme and dangerous terrain. These stations are equipped with a 30-foot pole bearing a red cross flag so that the aid stations can be seen from a distance. The water stations also contain GPS information and emergency contact information so that distressed migrants can be rescued in case of emergency.
"I have a feeling that this is going to be a game changer in how we do ministry," Paul said of the water station initiative. One of the most fervent goals of the congregation is not just to be a recipient of generosity, but to grow its self-sufficiency and giving to others."It comes down to being the church and loving people – that's what it's all about," he said.
***
Lety and her family live about 15-20 minutes away from church. Lety's not a big fan of driving in the rain, but her daughters usually convince her to make the trip to Sunday-morning worship even when it's raining. On Sundays, Erica helps Pastor Bailie with the tech screen, Lety said. Yajaira helps out with communion.
She talks joyfully about the posada at Christmas, with a piñata and dinner. Easter involves worship outdoors with a fire and candlelight.
Lety loves the church garden, too. In the spring, they plant and grow the seeds in the back part of Pastor Bailie's yard. Onions, tomatoes, radishes, corn, watermelon, and squash are among the items grown.
"I just love going to church," she said. "We do have a lot of fun there."
Emerging Voice Award
Paul Bailie is the recipient of the 2016 Emerging Voice award from the Lutheran School of Theology at Chicago. He will be recognized at the 2016 Leadership Conference at the seminary on Wednesday, Oct. 12. Bishop Ray Tiemann of the Southwest Texas Synod of the ELCA nominated Paul.
"Pastor Paul Bailie has served two congregations in the Southwestern Texas Synod. The first was a small congregation in San Antonio, but we spoke to him about being an Anglo pastor in a fully Latino congregation in Eagle Pass, Texas – San Lucas Lutheran Church. He was wanting to grow in his Spanish language and live more on the edge of serving those in poverty and need. His caring commitment to this community is inspiring, as he has learned to work with his members and community leaders. He actively shares his joy and struggles on a Facebook page that details the ministry.
"…His passion for work with those in poverty and the Latino culture help him serve well in this setting."