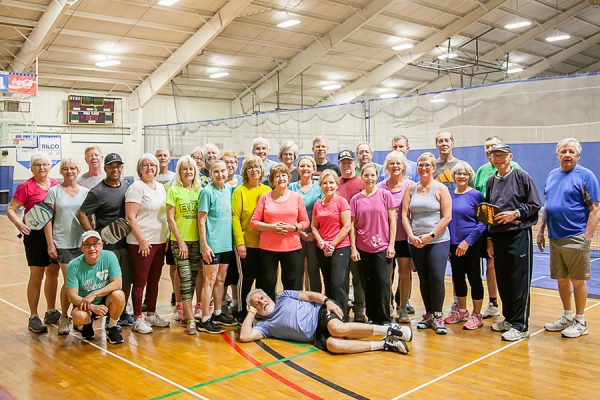 Editor's note: Come for an afternoon of fun and pickleball. St. Paul people and friends are invited to Northwest Park, 3400 N. Division St., Davenport, 2-4 p.m. Saturday, June 1. Some paddles and balls will be available for use, or bring your own. The afternoon is free, but please sign up at stpaulqc.org/signups.
If you don't know they are there, you might not see them. But once you know what a pickleball court looks like – well, they seem to be everywhere. Northwest Park in Davenport. Bettendorf Middle School. Rock Island Fitness and Activity Center. Quad City Tennis Club. And the people who play – there are lots of those too.
Pickleball – a mix of tennis, badminton, and ping pong – is about 50 years old, and the number of people playing is expanding rapidly.
"People our age, want something to keep active," said Barb Shinbori, an ambassador for the USA Pickleball Association and St. Paul member. "It's such a great way to do that – it's social and it gets you off the couch."
The rules for pickleball are simple and the game is easy for beginners to learn. It can develop into a quick, fast-paced, competitive game for experienced players. The sport is played both indoors and outdoors on a badminton-sized court and a slightly modified tennis net. Each player needs a pickleball paddle, which is smaller than a tennis racquet but larger than a ping pong paddle. The ball is unique, with holes through it like a whiffle ball. Different ball models are intended for indoor and outdoor play. Balls come in several colors, including white, yellow and green, but must be a single color to meet International Federation of Pickleball specifications. Pickleball can be played as doubles or singles.
The story of pickleball begins in 1965. Pickleball was invented on Bainbridge Island, a short ferry ride from Seattle, Washington. Three dads – Joel Pritchard, Bill Bell, and Barney McCallum – whose kids were bored with their usual summertime activities, are credited for creating the game. One of their homes had an old badminton court so they looked for some badminton equipment and could not find a full set of rackets. They improvised and started playing with ping-pong paddles and a perforated plastic ball.
Why is it called pickleball? The story goes that one of the founders' dogs was named Pickles. "The Pritchards had a dog named Pickles, and you're having fun at a party, right? So anyways, what the (heck), let's just call it pickleball," Barney once said.
Today, thousands of courts can be found in the U.S. Courts are located in community centers, parks, YMCA facilities, and retirement communities. Kids and teens are learning the sport in physical education classes. According to the Sports & Fitness Industry Association, more than 2.5 million people play pickleball in the United States.
On a sunny but chilly morning, the parking lot at Beyond the Baseline in Davenport indicated something going on inside. The center, part of the old Marycrest College, is a field house of sorts. People gather most every morning during colder weather to play pickleball.
There are treats and coffee, special events for holidays, and two sets of competitors – ones who come more for the fun, and ones who come for a bit more competition. They play for a few hours, coming and going as they need to. Occasionally, you might see a St. Paul staff member or two there on a Friday morning.
John Greenlee is one of the regulars at Beyond the Baseline. He calls it "recess for seniors." Pickleball, he noted, is particularly good for people with bad knees, bad ankles, bad shoulders.
"It's great community, great camaraderie," said John, who is a retired teacher and coach. "We're not out here trying to win any Olympic gold medals."
In the coming months, the Quad Cities will host a nationally sanctioned pickleball tournament – a first for the community, Barb said. The VIM Today QC Pickleball Classic will be held at the Quad Cities Tennis Club in Moline, August 14-17. Competitors from across the country are already signed up, including teams with names like the Parkside Picklers and Team Gamma.
The groupings show the most common ages of pickleballers, with a big year gap between the first two groups – 19+, 50+, 60+, 65+, 70+, 75+, and 80+.
If you run into Barb out and about, it's likely she will be wearing something that has a pickleball logo on it. "I change for church sometimes," she said. Speaking of church, Barb usually attends the 5:30 p.m. Saturday worship so that she can play pickleball on Sunday mornings.
"I love being active," she said. "I still have that competitive edge."
Where else can we play pickleball?
The Quad Cities is home to approximately three dozen pickleball courts – indoor and outdoor. To find a place to play locally with others, visit:
■ qcpickleball.wordpress.com/places-to-play
■ meetup.com/Quad-Cities-Pickleball-Club
To find a location anywhere nationwide, visit places2play.org.
How can we learn more about pickleball?
■ On Facebook: facebook.com/QCPickleball
■ On the web: qcpickleball.wordpress.com
■ On YouTube: youtube.com/user/usapickleball2