2
Sounding joy: Choose joy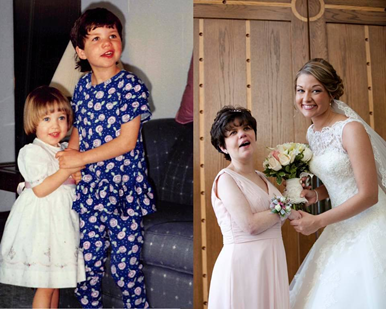 The word "joy" has special meaning for me. My story starts like many: I grew up in a loving home with my parents, and my big sister, Jenny. Jenny had an accident when she was 2 ½ that left her intellectually and physically disabled. This is the part where many people apologize. While those apologies come from a kind, well-meaning place, they are not necessary. My childhood with Jenny as my sister was special in a way not many people can understand. Jenny encompassed the word 'joy,' it defined her, she exuded it. Jenny never met a stranger. She smiled and laughed more often than anyone I know and always had a way of cheering up those around her. Despite every obstacle she had to overcome, Jenny chose joy.
The holiday season for many is an especially joyful time, full of hope, love, and generosity. As a mother, I find joy watching my children experience the traditions of Christmas, singing carols, baking together, family Advent devotions, light displays, and of course, Santa Claus. I find hope for the future when my 5-year-old declares something incredibly insightful for his age. I find love in watching the way people help one another in simple ways, such as holding a door open or sharing a smile. I find that giving to others during the holiday season gives me more joy than being on the receiving end. Joy is contagious and when we exude joy it brings happiness to others, like Jenny did.
Jenny passed away in 2017. However, her joy lives on through everyone who was lucky enough to know her. I am, like most, unable to encompass as much joy as Jenny did. But having Jenny as my sister taught me to choose joy, even when it's hard, and share that joy with the people around you.
I wish you joy and happiness this holiday season and always.
Margaret Thompson is a life-long member and children's choir director at St. Paul. She lives in Davenport with her husband Miles and their two sons, Christian and Charlie.