Sounding Joy: Summertime, wintertime, all the time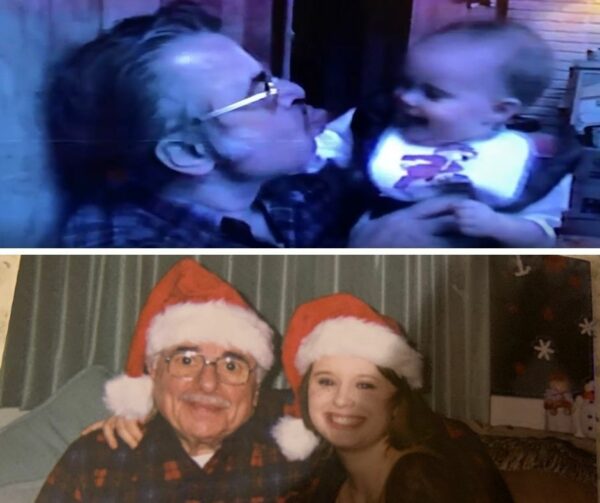 ♫ I love you in the summertime and the wintertime and all the time. ♫

Twenty-one. That's how many beautiful years my Grandpa Pecoraro and I were gratefully able to spend together.
The first was Easter which occurred that year just about a month after I was born. My grandpa brought a bright pink, fluffy bunny, bigger than me, to the hospital to welcome me.
My maternal grandpa and I shared a special connection that is difficult to explain but we just "got each other." I was an almost shockingly shy child and he was often the stoic patriarch but we brought out the joy, humor, and inner child in each other.
He inspired in me my love of The Three Stooges, jazz and big band music, playing percussion and Louie Bellson. Music is what still ties our spirits together. I still feel him with me when a particularly lively or soulful song comes on and I start tapping my foot. Christmas Eve is not complete without a classic jazz Christmas soundtrack in the background.
I feared the dark as a child. When I'd spend the night at my grandparent's house, I'd sneak out to sit with Grandpa and watch TV when I couldn't sleep. I don't remember the programs we watched but I will always remember the laughter.
In my teen years, Grandpa Chuck (or Charlie, I'd call him when I was being ornery – another trait he inspired) made up a song that we have carried on in our family. A simple one liner that he always sang goofily but genuinely to my mom and me. I love you in the summertime and the wintertime and all the time.
When I was 20 years old, he was diagnosed with lung cancer. On my 21st birthday, one of the last days he was communicative, he told me he was scared to die alone and I promised him that wouldn't happen.
My grandpa passed on Easter Sunday, just about one week later. He wasn't alone. I was holding his hand and singing. And I'd brought along my 21-year-old stuffed bunny, no longer bright pink and fluffy, but even more special. First, I sang his song, I love you in the summertime and the wintertime and all the time, and then he passed as I sang "Ava Maria."
We guided each other through our fears (of the dark, of being alone, of the unknown) with the joys of laughter and music. His song has become our joyous family anthem with my mom, myself, and now my daughter, whose middle name Ro is a tribute to Grandpa Pecoraro, singing it to each other, sometimes during difficult times as a reminder that we're not alone, but often during joyous times as well, always goofily, always genuinely.
Jessica Taylor is the Director of Communication at St. Paul. She is married to Tom and together they share in the joy of life with their spunky daughter Avery and their growing home zoo with Tink, Hardy, and Petey.