The cross from the margins
Lisa Powell first became interested in studying the perspective of non-dominant groups in theology when she was in her final year of study for her master's of divinity at Princeton Theological Seminary.
She took two class that changed her. One was called Cultural Hermeneutics – a class that drew a large, diverse student body.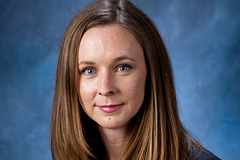 "There were a lot of hard conversations, and anger and suffering I didn't know about," Lisa said. "It opened my eyes to different voices in the tradition that I hadn't been exposed to previously."
The study of feminist theology, Latin American liberation theology, global and post-colonial theology, disability theology, and theology and race then became her life's work.
Lisa, associate professor of theology and women & gender studies at St. Ambrose University, will present a three-week series, The Cross from the Margins, beginning this Sunday, 10:45-11:30 a.m. in Fellowship Hall. The first week will focus on race, the second on women, and the third on disability.
"The focus of the three lessons also will correspond to the life, death, and resurrection of Christ," she said. "The first week, race, will focus on the significance of his life for our salvation. The second will look at how women theologians understand his death, and the last will look at how his resurrection is interpreted by disabled theologians."
Lisa, who went on to earn a PhD from Princeton Theological Seminary, has studied Christian action related to immigration and life on the borderlands while residing in Nogales, Mexico. She was the first-place winner of the Elisabeth Schussler Fiorenza New Scholar Award, awarded to emerging voices of new scholars in the area of feminist studies in religion. She also presents regularly at national and regional meetings of the American Academy of Religion. On a personal note, she enjoys planning trips, getting outdoors, finding ways to use the harvest from her family garden, and hosting poetry readings.
Lisa recommended three books on the topics she will discuss:
The Cross and The Lynching Tree by James Cone
The Wounding and Healing of Desire by Wendy Farley
The Disabled God by Nancy Eiesland
"We'll consider how these different perspectives multiply or expand our understanding of what Christ accomplished. They give us a greater vision of the magnitude of what God did in Jesus' life, death, and resurrection," she said. "I hope people come with an open mind to learn from different perspectives."