A virtual walk for mental health
Every year, St. Paul gathers a team of people to participate in the annual NAMIWalk. The congregation gives $5,000 to support the work of NAMI in the Quad Cities, and the team gathers to walk together. The walk promotes awareness of mental health, raises money for NAMI in the Quad Cities, and builds community.
This year will be different. But walk organizers believe it will be just as meaningful, and fun. On Saturday, Oct. 10, NAMIWalks will be a virtual event with NAMI chapters across the country. Choose how you want to participate. Ideas include:
■ Walking 3,500 steps outside or inside
■ Planning a craft day with their kids
■ Practicing self-care with a favorite hobby: yoga, gardening, knitting
Take a photo or two of the activity you choose. Post them on your own social media. Then, send them to ann@stpaulqc.org or text them to 563- 370-0004 so St. Paul can post on our Facebook and Instagram. Let us know you'll participate by signing up at stpaulqc.org/signups.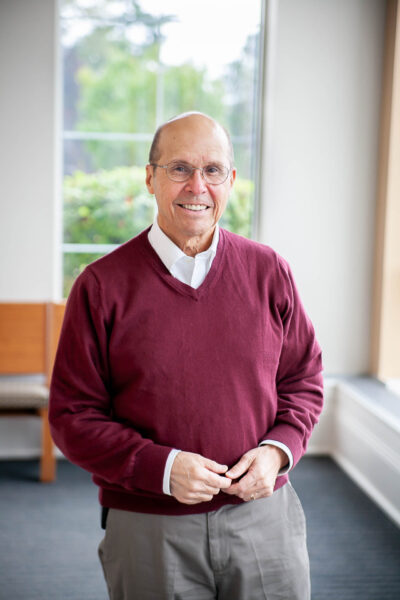 Terry Haru greeted people one evening in the St. Paul Gathering Area. Terry, who serves as one of St. Paul's evening and weekend hosts, talked for a bit with a woman who had come for a class for people whose family members have a mental health condition.
Terry spent most of his professional career working in the mental health field, both as a counselor and as an administrator. He worked as an outpatient therapist for six years in Missouri, then supervised a variety of programs for the persistent and severe mentally ill in Illinois. He retired as the chief compliance officer for a behavioral health care center in Decatur, Illinois.
"After I retired, even though I had a lot of personal things I was doing, I wanted to contribute to the community," Terry said. The woman he struck up a conversation with was Angela Gallagher, the executive director of the Quad Cities affiliate of the National Alliance on Mental Illness, or NAMI. As the conversation evolved, Angela asked: Would you be interested in joining our board of directors?
Terry now serves as president of the board. He is joined by Kris Voyna, a fellow St. Paul person, as vice president. "What NAMI's program does is it fills a gap for cost-free education and programs that are especially geared towards families," Terry said. "We feel that education, at no cost, is an important piece in that continuum of care."
One of the oldest chapters in the country
NAMI Greater Mississippi Valley is one of the oldest NAMI affiliates. Formed at a kitchen table in 1979 by families looking for answers, NAMI has grown into the largest grassroots mental health organization in the United States. NAMI is dedicated to improving the lives of persons living with serious mental health conditions and their families, empowering them toward recovery. NAMI does not provide treatment or counseling; rather the organization focuses on education, advocacy and support.
Locally, NAMI Greater Mississippi Valley works with healthcare providers and other community leaders to address needs within the Quad Cities area. Their work complements treatment, filling an information and education gap for individuals and families. NAMI Greater Mississippi Valley serves residents of eastern Iowa and western Illinois. The organization has adapted due to the pandemic, with some groups going online.
"The support has been critical" during this time of more isolation, said Angela Gallagher, executive director of the affiliate. "Our programs help families through trauma, give them tools to cope, and encourage them to take care of themselves."
Referrals are a key part of the work NAMI does in the Quad Cities, whether a person is in crisis, needs answers to insurance questions – including whether their insurance will be covered on the other side of the river, or is searching for ideas on how to work through a challenge with a loved one.
Be a part of the change
Four years ago, Angela reached out to Kris Voyna to ask if she would be interested in serving on the board of directors. "I was ecstatic to say yes," Kris said. Kris just earned her doctorate in human and organizational psychology and works at Deere & Co. She is diagnosed with depression and anxiety. Her wife, Teri, is diagnosed with generalized anxiety disorder and post-traumatic stress disorder.
"One in five people experiences a mental health issue in their lifetime," Kris said. "It's a reminder to always be kind. We don't know what others are facing. We can be a safe space for those who are facing a mental health challenge."
This Oct. 10, she and her son, Leo, will go for a walk around the neighborhood and experience nature in order to participate in the virtual NAMIWalk. If the weather isn't so great, they will do something fun at home instead. She is honored to be a part of the board of directors for NAMI. "I want to be a part of the change, and help it grow to save lives and enrich lives," she said.
Seeking support
NAMI Basics is a class for parents and other family caregivers of children and adolescents who have either been diagnosed with a mental health condition or who are experiencing symptoms but have not yet been diagnosed. It's a nationally developed program taught by trained volunteers who have lived experience. Cost is free, and the course is available online, on demand.
NAMI Family & Friends is a free seminar that informs people who have loved ones with a mental health condition how to best support them. It's also an opportunity to meet other people in similar situations and gain community support. The seminar is presented as a 90-minute format. Register for the 10 a.m. seminars on Oct. 24 or Dec. 5 at www.namigmv.org/find-support/monthly-seminars.
NAMI Family-to-Family is a free, eight-session educational program for family, significant others and friends of individuals 18 years or older living with a mental health condition. It is a designated evidence-based program. This means that research shows that the program significantly improves the coping and problem-solving abilities of class participants.
NAMI Greater Mississippi Valley offers support programs for people who have a mental health condition and their loved ones. To learn more, visit www.namigmv.org.
NAMI Homefront is designed for active duty and veteran service member families. NAMI and the Veterans Administration work cooperatively to offer this education class at no cost to family members and caregivers of an adult loved one living with PTSD, traumatic brain Injury, or other mental health conditions. The course was originally developed with the help of the United States Army.
NAMI Peer-to-Peer is a recovery education course open to anyone experiencing a mental health challenge. The course is designed to encourage growth, healing and recovery among participants. This is a nationally-developed program taught by trained volunteers who are living with a serious mental health condition. Duration is eight weeks. Cost is free.